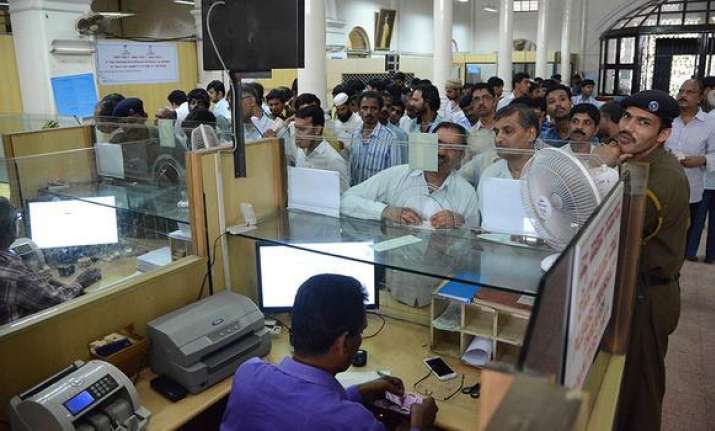 While people across the nation are struggling to deal with the cash crunch following the demonetisation move, there are some who are using this as an opportunity to fill their wallets. 
According to a Times of India report, enforcement authorities have found that corrupt bank managers are allowing backdoor note exchanges and are charging a commission while at it. 
In fact, authorities believe that a huge currency exchange racket is flourishing in the midst of the prevailing "cash crunch".
Sources in the Income Tax department, who have been monitoring such activities closely, have claimed that many bank managers are making a hefty profit helping out rich acquaintances with heavy deposits. 
Furthermore, the sources revealed that bank managers are charging 25-35 per cent commission to exchange old currencies with the new. For Rs 10 lakh-worth of old notes, Rs 8 lakh is being given in new ones. 
"We have information about many banks running this racket. Once the bank shutters are downed claiming that they have run out of money, there is a backdoor entry for huge money exchangers, running into crores. The catch is, bank managers keep the wads of currencies for exchange for a commission of 20-25 per cent," an official source was quoted as saying. 
"As these rich clientele is personally known to many of the branch heads (who know the tricks of the trade and how to bend the rules), the black money is made white through various means. Exchanging up to Rs 3 crore has become easy now," he further added. 
The report further claims that the black money is deposited in various defunct accounts, which are called zero-balance accounts. The bank officials keep a track of such accounts and the money is split and deposited with pre-dated entries. 
Another way of transforming the "black money" into "white" is the Demand Draft (DD). The amount limit to take a DD without submitting any documents is Rs 49,000 and people can draw the draft by depositing scrapped 500 and 1000-rupee notes. 
As the DD is valid for three months, it is cancelled after a few days and the money is paid back through banker's cheque after collecting the cancellation fee which eventually turns the money "white".