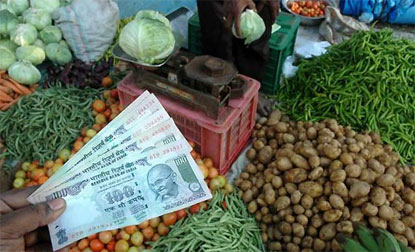 Owing to surge in price of food items like fruits, sugar and confectionery, the retail inflation rose to 4-month high of 3.65 per cent in February from 3.17 per cent during the previous month, official data showed on Tuesday.
Measured in terms of Consumer Price Index (CPI), the inflation had dipped to a multi-year low of 3.17 per cent in January this year on account of cash crunch following demonetisation. It was 5.26 per cent in February last year. 
Meanwhile, inflation based on wholesale prices shot up to 39-month high of 6.55 per cent in February because of costlier food and fuel items. 
According to the CPI data released today by the Central Statistics Office (CSO), the consumer food prices index (CFPI) rose by 2.01 per cent in February from 0.61 per cent in January. The CFPI was 5.3 per cent in February 2016.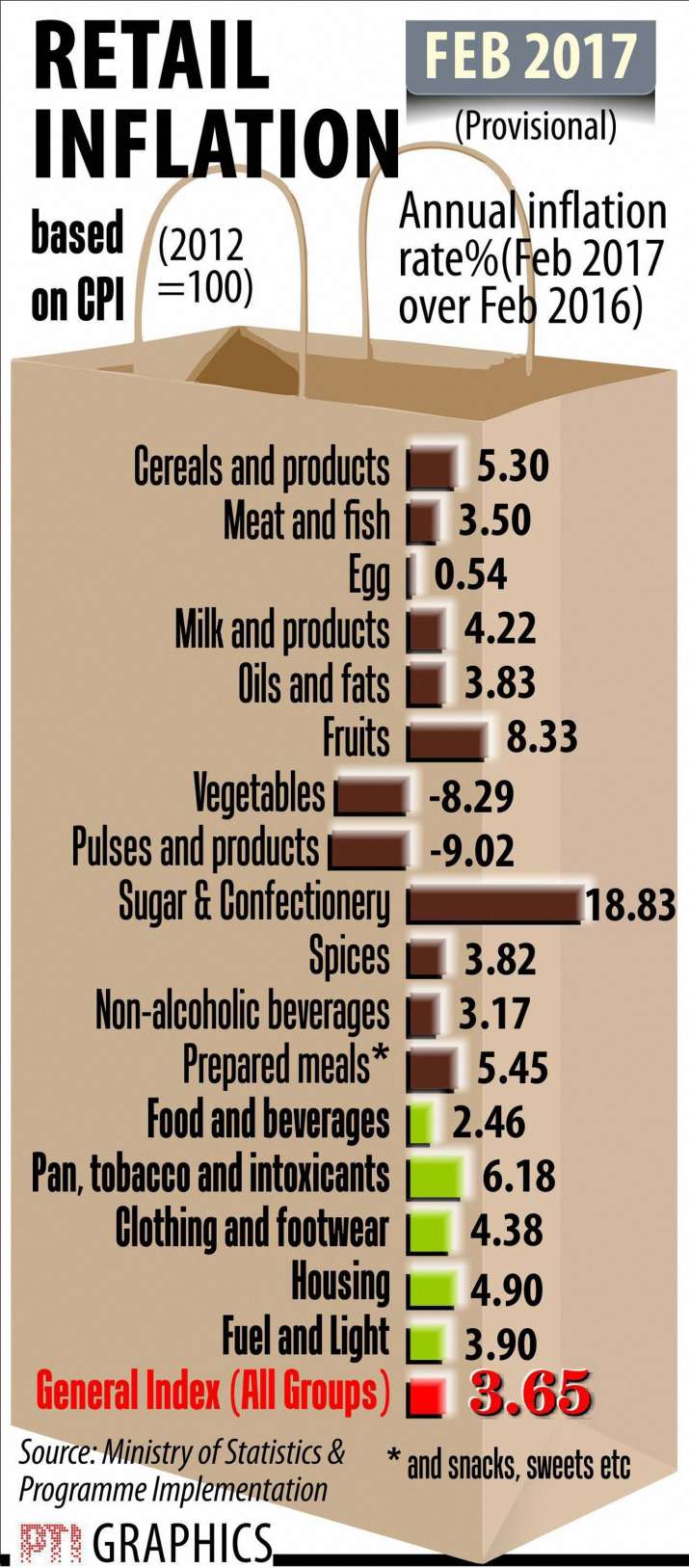 Retail inflation graphics
Rural retail inflation was at 3.67 per cent in February compared with 3.36 per cent in the preceding month. The CPI was also up in the urban sector at 3.55 per cent in February, from 2.9 per cent in January this year. 
The annual food inflation was 2.08 per cent in rural areas and 1.87 per cent in the urban areas. 
Even after the rise, the annual retail inflation is still below the upper tolerance level of six per cent.
The government target is four per cent plus-or-minus two percentage points for the next five years.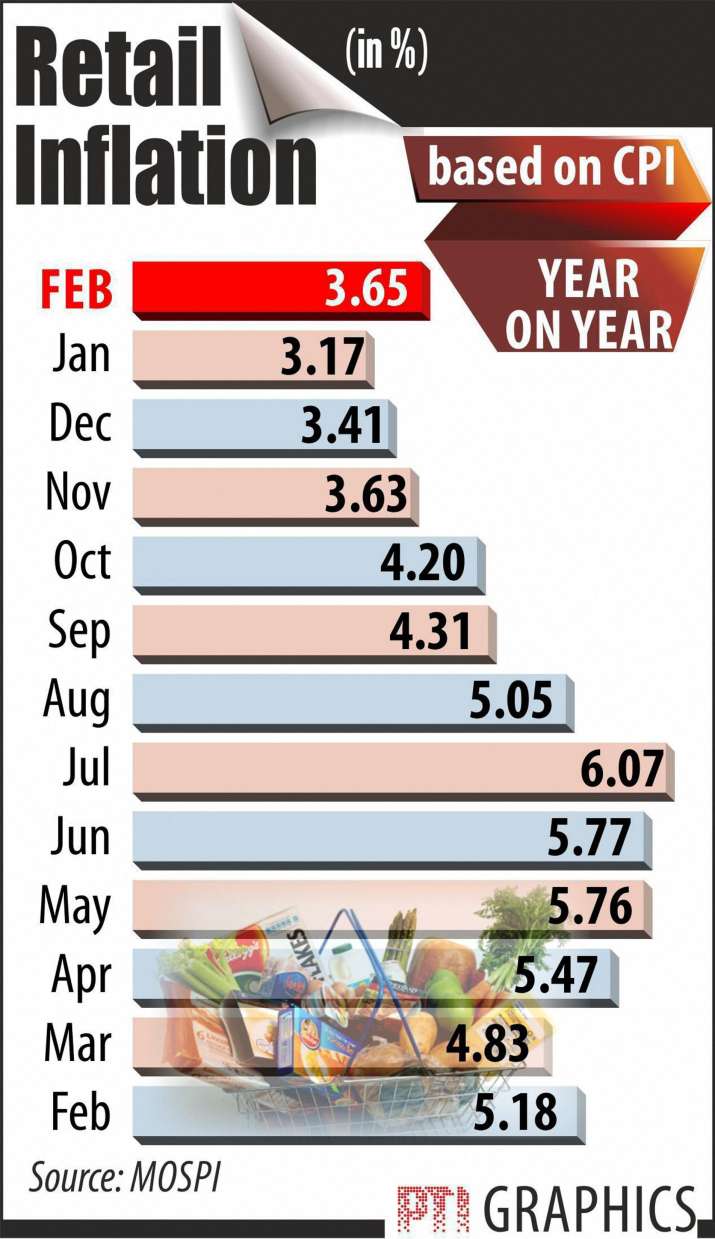 Retail inflation graphics
Inflation in fruits was higher at 8.33 per cent, fuel and light at 3.9 per cent in February. The rate of price rise in meat and fish was 3.5 per cent in February. 
Prices of sugar and confectionery items rose by 18.83 per cent in February while inflation in milk and milk product increased by 4.22 per cent. 
The rate of inflation in household goods and services was 4.09 per cent while this rate was in health segment was 4 per cent. The transport and communication became expensive by 5.39 per cent. 
The personal care and effects segment rose by 5.15 per cent while the education became more expensive by 5.37 per cent in February this year.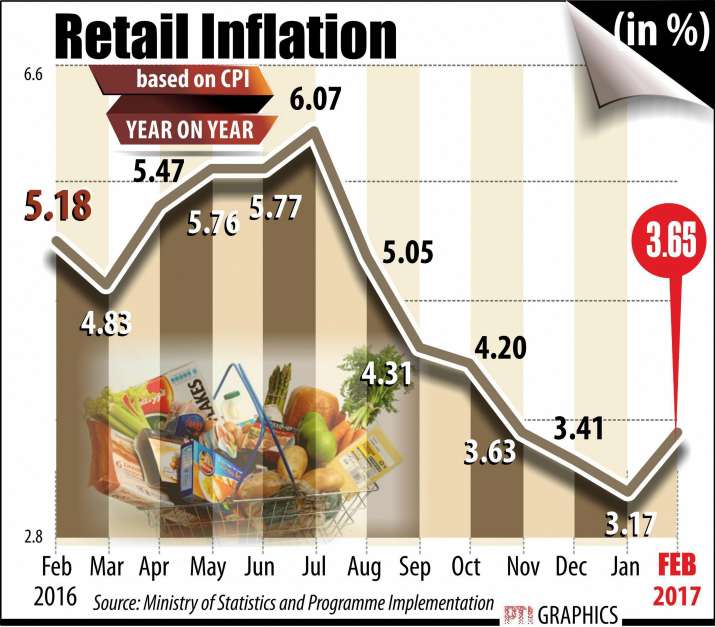 Retail inflation graphics
The inflation rate was 4.38 per cent in clothing and footware segment while it was 4.9 per cent in housing segment. 
However, the prices of vegetables and pulses declined by 8.29 per cent and 9.02 per cent respectively. 
Among the states, the retail inflation was lowest in Chhattisgarh, at 0.61 per cent, followed by Assam at 1.28 per cent, and Odisha at 1.61 per cent. 
On the flip side, it was as high as 7.14 per cent in Jammu and Kashmir, 6.16 per cent in Himachal Pradesh and 6.11 per cent in Delhi.
(With agencies)