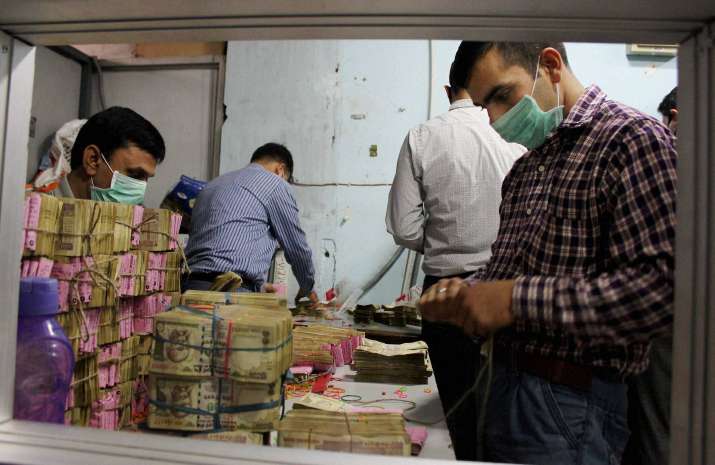 Amid reports of black money hoarders using the Jan-Dhan accounts to park their ill-earned wealth after Centre's demonetisation drive, the Reserve Bank of India today imposed a withdrawal limit of Rs 10,000 per month from such accounts.
Banks can allow withdrawals beyond Rs.10,000 only after establishing the genuineness of cases and documenting them in records.
 The RBI has instructed the banks to observe the following guidelines:
1) Fully KYC complaint account holders may be allowed to withdraw Rs.10,000/- from their account, in a month. The branch managers may allow further withdrawals beyond Rs. 10,000 within the current applicable limits only after ascertaining the genuineness of such withdrawals and duly documenting the same on bank's record.
2)Limited or Non KYC compliant account holders may be allowed to withdraw Rs. 5,000 per month from the amount deposited through SBNs after November 09, 2016 within the overall ceiling of Rs. 10,000.
This notification applies to 'know your customer' (KYC) compliant Pradhan Mantri Jan-Dhan Yojana+ (PMJDY) accounts funded through deposits of new bank notes after November 9, 2016. 
Those PMJDY account holders who want to withdraw more than Rs 10,000 a month, will have to furnish appropriate documents to prove why they need the money.
On the other hand, non KYC compliant account holders are entitled to withdraw only half the amount, ie Rs 5,000, in a month within the ceiling of Rs 10,000.
Reports from various states suggested a sudden spike in deposits of the banned currency notes in accounts that were activated in a hurry.
According to government data, deposits in Jan Dhan accounts rose to Rs 21,000 crore in days after the demonetization move. According to a November 25 report by PTI, deposits in these accounts had climbed to Rs 64,250 crore.
Prime Minister Narendra Modi had launched the Jan Dhan Yojana after he assumed the office aiming to provide banking access to farmers and labourers residing in remotest parts of the country.