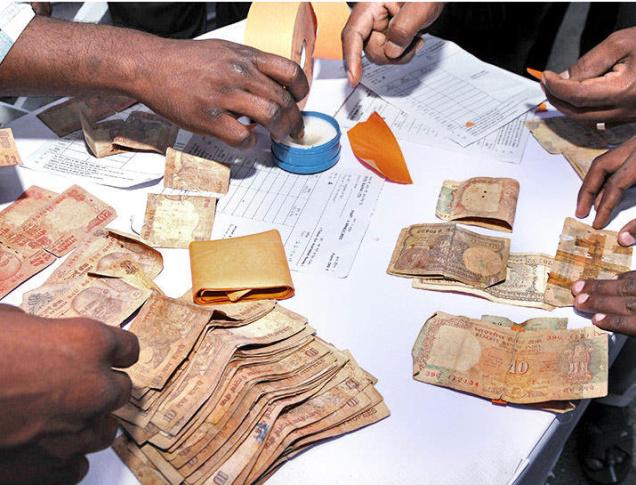 Mumbai: In an effort to provide better services to customers, the Reserve Bank of India today asked banks to swap up to 20 pieces of soiled currency notes with a maximum value of Rs 5,000 over the counter without charging a penny.
However, if the number of notes to be exchanged exceeds 20, service charge can be levied by the banks.
This facility of exchanging mutilated or imperfect notes can be availed by the customers at designated bank branches and also non-chest branches.
"Notes presented in small number: Where the number of notes presented by a person is up to 20 pieces with a maximum value of Rs 5000 per day, banks should exchange them over the counter, free of charge," the RBI said while reviewing for exchange of soiled notes by banks.
In case notes are presented in bulk (where the number exceeds 20 pieces or Rs 5,000 in value per day), banks will accept them, against receipt, for value to be credited later.
In case of bulk exchange, banks can levy service charges.
If the tendered value is above Rs 50,000, banks are expected to take the usual precautions, RBI said.
Further, the RBI also laid down norms for non-chest branches for exchange of soiled notes.
Where the number of notes presented by a person is up to 5 pieces per day, non-chest branches should normally adjudicate the notes as per the procedure and pay the exchange value over the counter.
If the non-chest branches are not able to adjudicate the mutilated notes, the notes should be received against a receipt and sent to the linked currency chest branch for adjudication, RBI said.
"The probable date of payment should be informed to the tenderer on the receipt itself and the same should not exceed 30 days. Bank account details should be obtained from the tenderer for crediting the exchange value by electronic means," it said.
In case the number of notes presented is more than 5 pieces not exceeding Rs 5,000 in value, RBI said the tenderer should be advised to send them to nearby currency chest branch or get them exchanged thereat in person.
All other persons tendering mutilated notes whose value exceeds Rs 5,000 will have to approach nearby currency chest branch.
Currency chest branches receiving mutilated notes through insured post have been asked to credit the exchange value to the account of sender by electronic means within 30 days of receipt of notes.
Tenderer aggrieved with the service provided by the banks in this regard may approach Banking Ombudsman concerned.
(With PTI inputs)