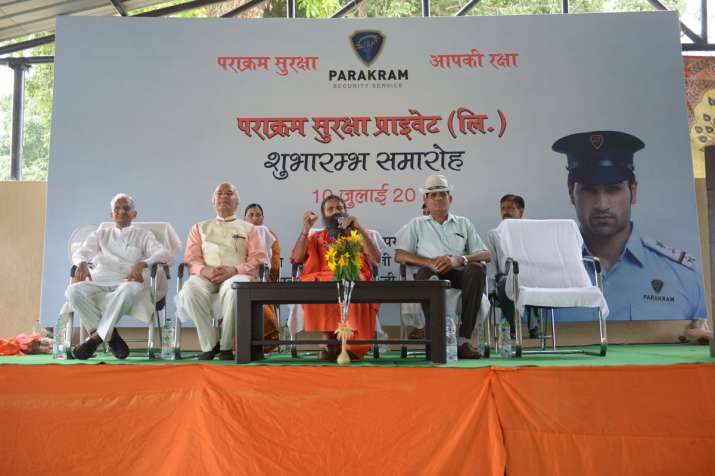 After establishing his Patanjali Ayurveda as one of the top brands in FMCG sector, Yoga guru Baba Ramdev has launched a private security firm which aims to provide jobs to 25,000 to 50,000 youth in the country. Baba Ramdev launched the security firm titled Parakram Suraksha Pvt Ltd on Monday and claimed that it will soon be among the top security companies of India.
According to a statement by the company, the security firm will "prepare individuals for self and country's security."
Acharya Balakrishna, CEO of Ramdev's Patanjali, told ANI, "Security is a very important issue either for a man or a woman. Our aim is to prepare individuals for self and country's security and for this we have formed Parakram. This will help develop military instinct in each and every citizen of the country so as to awaken the spirit and determination for individual and national security."
He said that Ramdev has hired retired Army and police personnel to train young interested recruits.
Launched Parakram Security today. It will provide jobs to 25-50k youth in the country and soon be among the top security companies of India pic.twitter.com/P0zIcWSGrv

— Swami Ramdev (@yogrishiramdev) July 10, 2017
"We were thinking that we will call a few youngsters who have applied for the police. Most of these people have already participated in army and police trainings...we are giving them the toughest training similar to the armed forces," Ramdev's close aide further said. 
Acharya claimed that trainees at Parakram Suraksha will even be ready to join the armed forces. He said that the company will train females as well. The company plans to open its branches in some states later this year.
Ramdev's Patanjali Ayurved has grown into one of the largest FMCG brands in the country and posted a turnover of Rs 10,561 crore in the fiscal year 2017. Ramdev's company aims to achieve a turnover of Rs 1 lakh crore in the next five years.