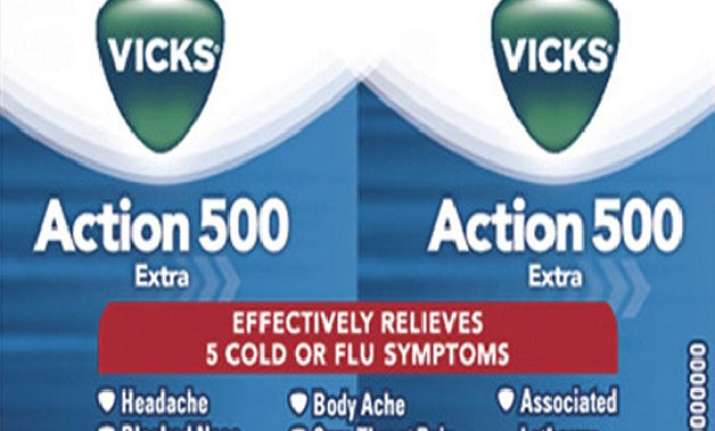 New Delhi: U.S. consumer health giant Procter & Gamble (P&G) has stopped the manufacture and sale of its cough-and-cold medicine Vicks Action 500 Extra, after regulators banned after the government banned fixed dose combination drugs. 
The move comes after Health Ministry banned about 344 fixed dose combination drugs, which includes Paracetamol, Phenylephrine and Caffeine. Vicks Action 500 Extra forms the same fixed dose combination.
"The Government of India has prohibited the manufacture for sale, sale and distribution of fixed dose combination drugs (Paracetamol + Phenylephrine + Caffeine) with immediate effect," Pfizer said in a BSE filing.
Also drug majors Pfizer and Abbott stopped sale of their popular cough syrups Corex and Phensedyl respectively, after the ban over 300 fixed dose combinations (FDCs) drugs.
Here is the list of popular drugs of pharma companies affected by the ban
1. Abbott: Cough Syrup Phensedyl, Tossex and triple combination diabetes drug Tribet
2. Pfizer: Cough Syrup Corex
3. Macleods: Panderum Plus
4. Mankind: The impact is spread across multiple products
5. Alkem: Sumo (Nimesulide + Paracetamol) and Taxim AZ (Azithromycin + Cefixime)
6. Sun Pharma: The most impacted is triple anti diabetes combination drug Gemer P (Meltformin + pioglitazone + glimeperide)
7. Ipca: Zerodol P (Paracetamol + Aceclofenac)
8. Glenmark: Most of the impact is on account of Ascoril range of cough syrups
9. Wockhardt: Zedex cough syrups, Ace Proxyvan impacted
10. Lupin: Triple combination diabetes drug Gluconorm most impacted
11. Cipla: Triple combination diabetes drug Triexer most impacted
12. Procter and Gamble (P&G): Vicks Action 500 Extra