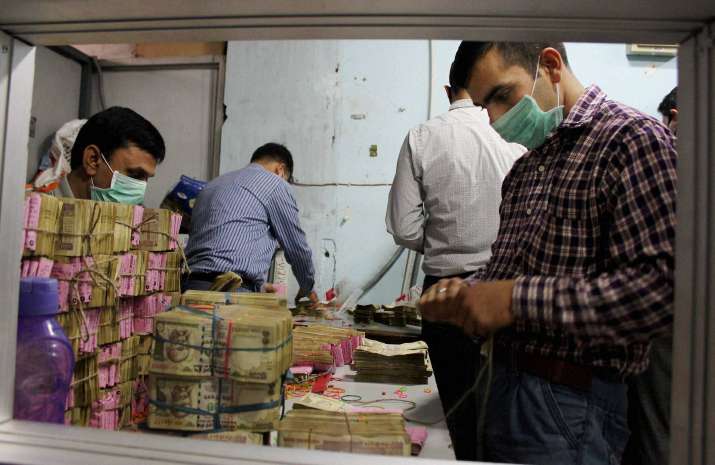 Since the government announced scrapping of Rs 500 and Rs 1000 notes, banks have received Rs 5.44 lakh crore worth of old high denomination currency, Rs 33,006 crore of which was exchanged with valid notes, the Reserve Bank of India informed today.  
The figure was collected from banks upto November 18.  
The banks also disbursed Rs 1,03,316 crore over the counter and via ATMs between November 10 and November 18, the central bank said in a statement.  
Consequent to the announcement of withdrawal of legal tender status of banknotes of Rs 500 and Rs 1000 denominations from the midnight of November 8, 2016, the RBI had made arrangements for exchange and/or deposit of such notes.  
The facility was available at the counters of the Reserve Bank and commercial banks, Regional Rural banks and Urban Cooperative Banks. 
"Banks have since reported that such exchange/deposits effected from November 10, 2016 upto November 18, 2016 amounted to Rs 5,44,571 crore (exchange amounted to Rs 33,006 crore and deposits amounted to Rs 5,11,565 crore)," the RBI statement said.  
"They have also reported that the public have withdrawn, during this period, Rs 1,03,316 crore from their accounts either over the counter or through ATMs," it statement said.  
Long queues were witnessed on November 10, the day on which banks opened after after announcement of demonetisation, as people thronged banks and post offices to exchange and deposit invalid currency notes.  
People also queued up at ATMs for cash withdrawal. Meanwhile, government made several exceptions allowing people to use invalid currency notes for buying petrol/diesel, rail and air tickets, payment of public utilities, taxes and government hospitals.  
Today, the government allowed farmers to purchase seeds for the rabi crops using old Rs 500 notes from government outlets or state, central agriculture university.