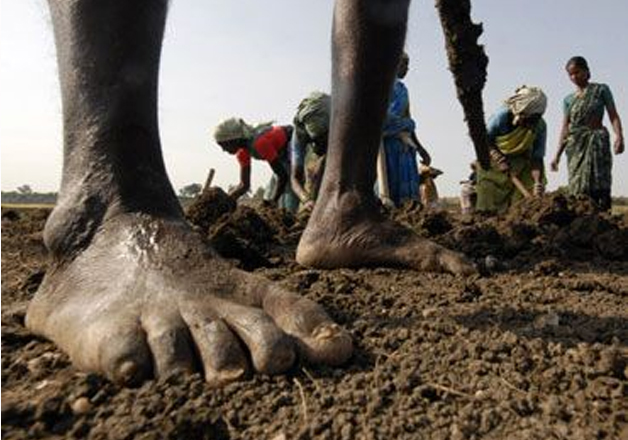 In the lowest ever hike in wages under Mahatma Gandhi National Rural Employment Guarantee Scheme, the flagship scheme launched by the erstwhile UPA dispensation, the Centre has effected a meagre 2.7 per cent increase this financial year. 
According to a report in The Indian Express, in some states like Assam, Uttar Pradesh, Bihar, Jharkhand and Uttarakhand, the increase in daily wages under MGNREGA from April 1 is just Re 1. 
Moreover, in drought-affected states of Tamil Nadu and Odisha, the hike is Rs 2, whereas in Andhra Pradesh and Telangana it is Rs 3. 
After the wages being revised, the states with the lowest pay are Jharkhand and Bihar, where workers will now get Rs 168 (up from Rs 167) per day. Haryana has the highest wages, up from Rs 259 last year to Rs 277. 
Last year, the increase in wages was slightly higher at 5.7 per cent. 
Earlier, an expert committee set up by the Rural Development ministry had asked the Finance ministry for a fair revision of MGNREGA wages to bring them on par with the minimum wages paid to unskilled agricultural workers in the states – a request which was turned down. 
"This ministry is of the considered opinion that the proposal for change in the base wage rate is not advisable at this stage" The Indian Express quoted the finance ministry as replying. 
The expert committee made two essential recommendations. First, the baseline for MGNREGA indexation should be the current minimum wage fixed by the state for unskilled agricultural workers. 
Second, the Consumer Price Index for Rural (CPI-Rural), which reflects the current consumption pattern for rural households, should be the basis for revising MGNREGA wage rates, and not CPI for Agricultural Labourers, which is based on the consumption pattern of 1983. 
But the finance ministry asked the rural development ministry to "undertake other steps to streamline the implementation of MGNREGA", such as swift approval of projects, social audit and inventory of assets created. 
As a result of the growing divergence between MGNREGA wages notified by the Centre and the minimum wage as revised by the states, MGNREGA wages are way below than the minimum agricultural wage in over half the states. 
For instance, the minimum daily wage as well as the MGNREGA wage was Rs 120 in Bihar in 2011. Today, the minimum wage in the state has increased to Rs 232 per day, while MGNREGA wage is only Rs 168.