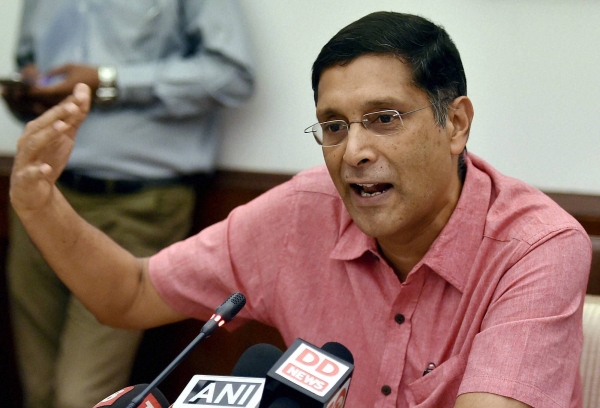 The Indian economy will not have much impact of the US Federal Reserve's rate hike because of the country's strong economic growth and record high foreign exchange reserves, Chief Economic Adviser at the Ministry of Finance Arvind Subramanian said on Thursday.
"Indian economy is 'well cushioned' to absorb the impact of US Federal Reserve's rate hike," Arvind Subramanian said.
"India is seen as better equipped than its other emerging market peers to weather the impact of higher U.S. interest rates because of its stronger economic growth and record high foreign exchange reserves of more than Rs 20 lakh crore (USD 300 billion)," he added.
The Federal Reserve yesterday raised the benchmark interest rate by 25 basis points, the first and the only time in 2016, and indicated a faster rate hike pace next year. 
The benchmark BSE Sensex fell 141 points to 26,462.18 in early trade on Thursday following the US Federal Reserve's rate hike announcement. 
China's currency renminbi, or yuan, also weakened today against the US dollar, falling to nearly eight-year lows against the dollar.
The Fed released its updated economic projections indicating that the central bank expects to raise rates three times next year, compared to the two times suggested in its September projections. 
Its new projection has the unemployment rate dipping to 4.5 percent by the end of 2017 and remaining at that level in 2018.
The Fed kept its long-term estimate for economic growth at 1.8 percent, far below the 4 percent pace that President-elect Donald Trump has said he can achieve with his program of deregulation, tax cuts and increased spending on infrastructure.
(With PTI inputs)