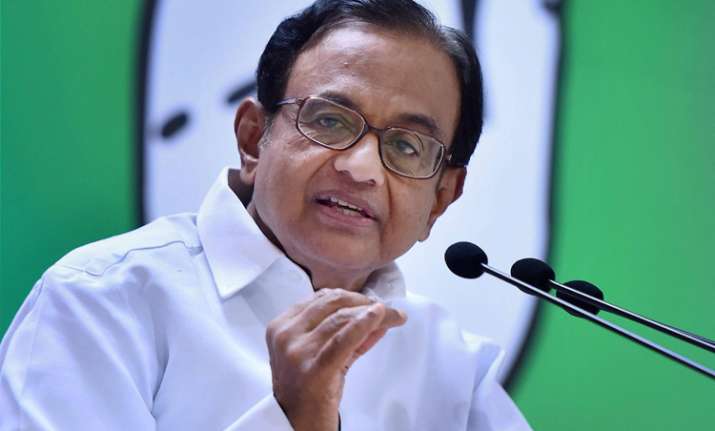 A week after the rollout of the Goods and Services Tax (GST), the Congress today said that the tax regime in its current form is "very, very imperfect" and cannot be labelled "one nation, one tax" as it has seven or more tax rates. Calling a "mockery" of the original draft, former Finance Minister P Chidambaram said that the rollout should have been delayed by at least two months. The Congress will press for reduction in tax rates and demand a cap of 18 per cente, besides seeking to bring petroleum, electricity and real estate under the new tax regime, Chidambaram told reporters here. 
"This is a very, very imperfect law. This is not the GST which we (the UPA) had envisaged...What has been implemented, however, is a GST with seven, or possibly more, rates. It is a mockery of GST. 
"When we have rates like 0.25, 3, 5, 12, 18, 28 and 40, and possibly more because of the discretion vested with state governments, how can we call this a 'one nation, one tax' regime?" he asked. 
Chidambaram said the Congress would continue to watch the roll-out of GST and articulate the fears and grievances of small and medium size and multi-state businesses and consumers. 
"We will keep vigil over the possible misuse of the draconian powers given to anti-profiteering authority. We will highlight the elements of the true GST." 
He noted that authorities and businesses were "unprepared or underprepared" for the roll-out of the tax regime and said its launch should have been deferred by two months and the GSTN (goods and services tax network) should have been put through a trial run. 
The leader said the party would hold meetings and conferences across the country to highlight that the Congress was the "original proponent" of the GST and campaign for bringing a "true GST". 
According to Chidambaram, BJP leader and former finance Minister Yashwant Sinha had also confirmed that this was not the GST envisaged by the first NDA regime led by Atal Bihari Vajpayee. 
GST not perfect: Yashwant Sinha
Yashwant Sinha today said that there is a threat of indiscipline and unravelling of the GST if states follow the example of Tamil Nadu levying additional taxes over the agreed rate in a particular sector. He said that he feels that the new law is not a perfect GST as it is fraught with multiplicity of rates and full of compromises. 
Sinha warned of an imminent threat of indiscipline among states, if they follow Tamil Nadu in their desire to earn more revenue. Tamil Nadu has levied an additional 30 per cent entertainment tax along with the 28 per cent GST rate.
"Tamil Nadu's additional entertainment tax is baffling. Any additional levy by states, right in the beginning, was eminently avoidable. There is not only a threat of indiscipline. If the states go their own way and no not abide by one discipline, the whole thing will unravel, then what's the point of GST," he told IANS in an interview.
Such matters should be brought to the notice of GST Council, which should discuss and persuade states not to adopt such things, he said. "It is a matter of consensus."