Follow us on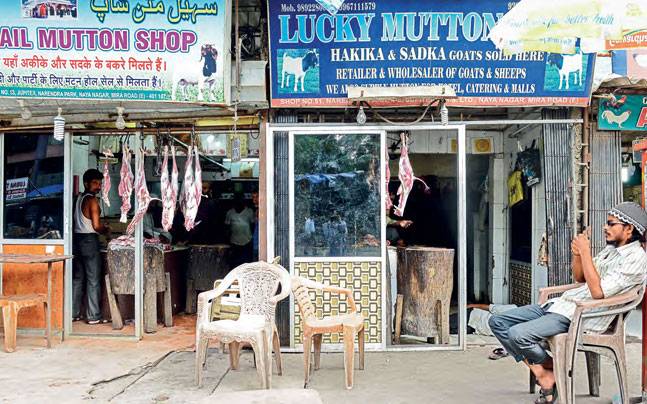 The crackdown on illegal slaughter houses by the Bharatiya Janata Party (BJP) government in Uttar Pradesh has left genuine meat traders in the state worried. While the government has maintained that its action is limited to those abattoirs running illegally in the state, the actions by the Yogi Adityanath-led government threaten to derail the revenue generated through meat exports as well as the employment of many in the unorganised sector, feel meat traders.
With the government prioritizing illegal slaughter houses as their target, meat has virtually vanished off menus in small dhabas and restaurants across the state. Supply is hit and the scarcity of meat has left eateries with no other option but to shut shop temporarily and wait for the situation to improve or look for other business to earn a livelihood.
The situation is alarming, claims the All India Meat and Livestock Exporters Association, adding that accumulated losses in the last two months since the BJP manifesto promised closure of illegal slaughterhouses runs into a staggering Rs 4,000 crore. The members of the trade body met Yogi Adityanath in the state capital and requested his intervention to safeguard legitimate business entities.
What makes the situation worse is the potential hit that the economy and livelihood is likely to take.
The one week that Yogi Adityanath has held the reigns of Uttar Pradesh for have seen four mechanised plants, which slaughter and process buffalo meat, shut by district administration across UP. The association members, however, point out that contrary to the government's directives, officials and vigilante groups have arm-twisted even legitimate traders to shut shop. Muslim-dominated areas in Western UP are the most affected, says the association, adding that legal owners of the trade were fearing harassment at the hands of various agencies.
There are 75 approved abattoirs in India of which 41 are in UP. UP also has 23 approved plants engaged only in meat processing. Three of these 23 were in Meerut and were sealed by authorities last week.
A look at some other numbers somewhat justify the fears of the industry. In 2016, India exported 13,14,158.05 metric tonnes of buffalo meat worth about Rs 27,000 crore. The ban, they say, could lead to a deficit of Rs 11,350 crore for 2015-16 in terms of revenue from exports.
"UP has only 41 slaughter houses, which are certified by the Union ministry. These units contribute to 60-70 per cent of the total export of buffalo meat, worth around Rs 320 billion. The fear of closure is among the owners' mind, who are now being troubled by several agencies," Fauzan Alavi, member secretary of the exporters' association told Mail Today.
Abattoir owners also claim that the fate of more than 6.5 lakh (hundred thousand) employees directly involved with the Rs 22,000-crore trade remains hanging as officials are taking action without sending any notice.
They also complain of being harassed by 'vigilante groups'. In the last one week, four mechanised plants have been shut in UP, besides buffalo meat processing plants belonging to a former BSP MP's family.
The government today informed Parliament that the ban on slaughterhouses in UP was limited to those functioning illegally. Minister of State for Commerce and Industry Nirmala Sitharaman said in a written reply to the Lok Sabha today gave out a complete bureau of meat and meat products exports from India.
As per the government's figures, buffalo meat tops the exports list accounting for Rs 26,684 crore in 2015-16 against exports worth Rs 29,283 crore in 2014-15. Buffalo meat export in the current financial year until January 2017 stands at around Rs 21,316 crore. The sheep or goat meat accounted for another chunk of India's meat exports, clocking Rs 838 crore in value in 2015-16 against Rs 828 crore in 2014-15. The value of export of goat/sheep meat in FY 17 until January stands at Rs 727 crore.
The export of birds' meat from India also clocks in huge revenue –at par with the export of buffalo meat in terms of value. Birds' meat exports valued Rs 27,610 crore in 2015-16 against a value of Rs 30,200 crore in 2014-15. The value of exports for this item stood at Rs 22,073 crore as of January 2017 for the current year.