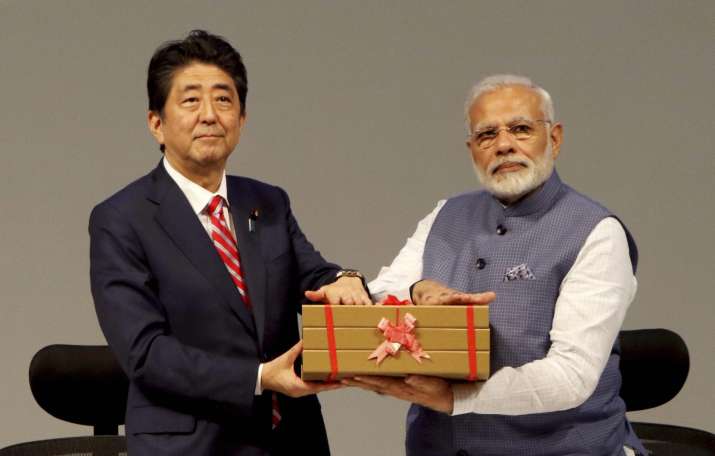 On a day of display of immense bonhomie between Prime Minister Narendra Modi and his Japanese counterpart Shinzo Abe who concluded his two-day visit to India yesterday, India's leading auto maker Maruti Suzuki announced its plan to manufacture electric cars at its factory in Gujarat for consumers in India and the world.
Maruti's parent company Suzuki Motor Corporation on Thursday announced a fresh investment of Rs 3,800 crore in Gujarat to add a third manufacturing unit. The fresh investment follows the Japanese auto company's earlier commitment to an investment of Rs 9,600 crore in building its plant in Gujarat which would make cars for Maruti Suzuki. Suzuki, holds 56.2 per cent stake in Maruti Suzuki, will fully own the manufacturing plant andwould make cars for Maruti on contract manufacturing basis.
Suzuki's announcement of the third line of the plant takes its total investment in India to Rs 13,400 crore. Suzuki has also announced an additional investment of around Rs 1,150 crore for a new unit to produce lithium ion batteries along with its partners Toshiba and Denso — a first by an auto firm in the country.
Suzuki chairman Osamu Suzuki said the company will use India as its key global manufacturing base. "For the last 35 years, we have been working towards 'Make in India' with you all," he said at a business leaders' meet in Gujarat where PM Narendra Modi and his Japanese counterpart Shinzo Abe were also present.
Suzuki's Rs 3,800 crore investment in Gujarat for a new plant at Hansalpur will have a capacity of 2.5 lakh units. This will be in line with its plans to boost its manufacturing capacity in Gujarat to 7.5 lakh units annually within the next couple of years.
While one of its plants, with a capacity of producing 2.5 lakh units, has already been commissioned and is used for manufacturing Baleno, work is  work on a similar capacity plant which is scheduled to be operational by 2019. The work on the third plant will follow thereafter.
The development comes close on the heels of the government's push for electric vehicles. The government has set a 13-year target for India to switch to only electric cars. Union transport minister Nitin Gadkari recently indicated that he was going to bulldoze the government's plan through the market.
Interestingly, the announcement of fresh investment in producing electric cars in Gujarat came just a day after Economic Times reported Maruti Suzuki chairman RC Bhargava dismissing the plan as unworkable due to lack of infrastructure. "It won't sell because people won't find it easy to charge. The ultimate answer is hybrids. I think we should work on bringing down the cost of hybrids," he said in an interview to ET.