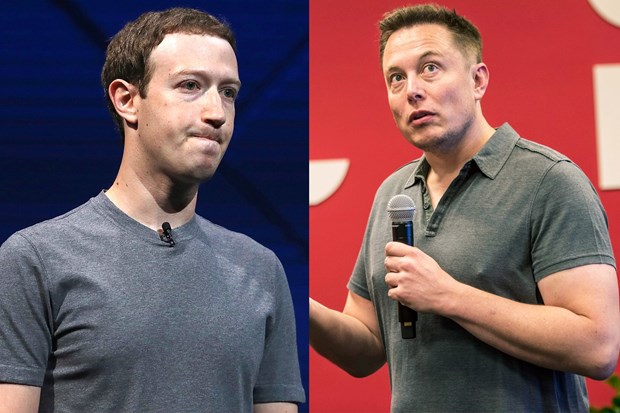 The idea of robots becoming smart enough to start killing human beings may have been the subject of science fiction films and novels, but trust things to get far more real when two of the world's biggest geeks collide. Billionaires Mark Zuckerberg and Elon Musk have been locked in a war of words over each other's understanding on the subject. On Tuesday, things escalated into a tech wizard war when Tesla Inc.'s Elon Must questioned the Facebook co-founder's understanding of robots.
I've talked to Mark about this. His understanding of the subject is limited.

— Elon Musk (@elonmusk) July 25, 2017
"I've talked to Mark about this. His understanding of the subject is limited," the Tesla CEO said in a tweet responding to Zuckerberg's takedown of his comments on the dangers of Artificial Intelligence. In a Facebook Live on Sunday, Zuckerberg was questioned on Musk's apprehensions over AI. Zuckerberg responded saying he was getting tired of the fear-mongering surrounding the futuristic technology.
"I have pretty strong opinions on this. I am optimistic," Zuckerberg said. "And I think people who are naysayers and try to drum up these doomsday scenarios — I just, I don't understand it. It's really negative and in some ways I actually think it is pretty irresponsible."
The response by Zuckerberg, who is betting big on AI, comes in wake of Musk's recent assertion at a Governors' conference that AI needs to be regulated because it poses a "fundamental risk to the existence of human civilization."
"I have exposure to the very cutting edge AI, and I think people should be really concerned about it," the Tesla CEO said at the the National Governors Association summer meeting. "I keep sounding the alarm bell, but until people see robots going down the street killing people, they don't know how to react, because it seems so ethereal."
Zuckerberg, however, has a much rosier vision of the future. In his Facebook Live session, Zuckerberg pointed out that AI will be responsible for such lifesaving services as diagnosing diseases and driving cars.
"One of the top causes of death for people is car accidents still and if you can eliminate that with AI, that is going to be just a dramatic improvement," Zuckerberg noted.
While the CEO acknowledged the potential for danger, he still finds it difficult to support AI's naysayers. "Whenever I hear people saying AI is going to hurt people in the future, I think yeah, you know, technology can generally always be used for good and bad, and you need to be careful about how you build it and you need to be careful about what you build and how it is going to be used," Zuckerberg said.
He continued, "But people who are arguing for slowing down the process of building AI, I just find that really questionable. I have a hard time wrapping my head around that."