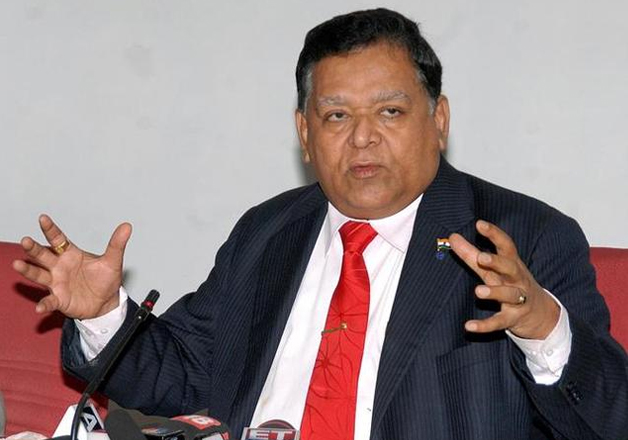 Engineering major Larsen & Toubro Group's Executive Chairman AM Naik has pledged to donate 75 per cent of his lifetime income to charity.
"I have committed to use 75 per cent of my income for charitable purposes," Naik told Economic Times, adding that 'charity is a personal desire'.
Naik, who was awarded the Padma Bhushan in 2009, comes from Endhal, a village in south Gujarat, and belongs to a family of teachers. He said that in his case, 'giving has continued for three generations'.
"My grandfather and father did not have money so they lived their lives for poor people," Naik, who hold a bachelor's degree in mechanical engineering from Birla Vishvakarma Mahavidyalaya Engineering college in Vallabh Vidyanagar in Gujarat, said.
Naik (74) is all set to step down from active leadership of the $16-billion (over Rs 1 lakh crore) engineering conglomerate a year from now.
He is currently engaged in building a school and hospital close to L&T's Powai campus and is also keen on setting up a fire station there.
"I want to carry out my charity work at my 'janmabhoomi' and my 'karmabhoomi'," Naik said.
Naik, who has been with Larsen and Toubro for 52 years, including about 18 years as its head after rising through ranks, said that he will set up two charitable trusts -- the Naik Charitable Trust for education and skill training and the Nirali Memorial Medical Trust, named after his grand daughter who died of cancer in 2007.
According to him, the trusts have seven projects of which two are underway and will be commissioned next year, one of them being a Vedic school named after his wife that will be inaugurated on her birthday.
Naik had joined the company in 1965 as a junior engineer. In 1999, he was appointed the CEO. Four years later, Naik was appointed Chairman and in 2012 he was given five years' extension.
According to the ET report, Naik made his first donation to a hospital in his native village in Gujarat in 1995 and sine then he has donated about Rs 125 crore to charitable initiatives.
"I started charity when I did not have much money," he said while recounting how his father asked him to explain where he got Rs 4 lakh to donate to a hospital in his village in 1995 to add a floor.
"He (my father) was such a principled man that he wanted to know the source of every penny," he said.
Naik, who describes L&T as his 'life with priority beyond wife and children', will pass on the reins to his successor SN Subrahmanyan next year.