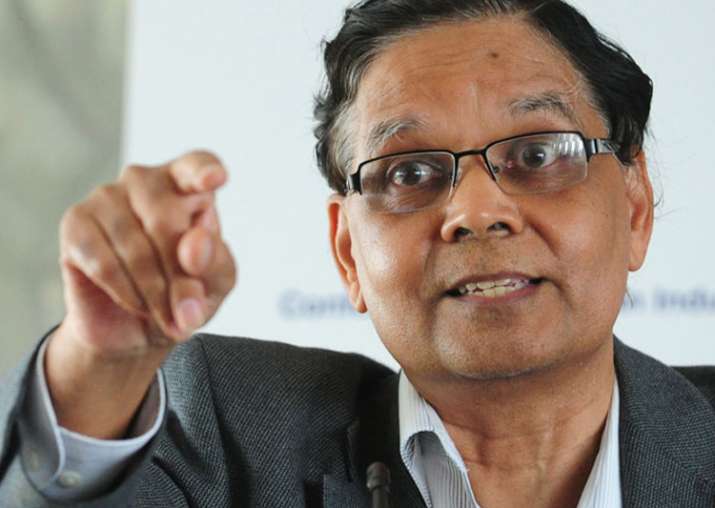 NITI Aayog Vice Chairman Arvind Panagariya today said that India will regain the crown of the fastest growing major economy, overtaking China, as early as the first quarter of 2017-18.
Panagariya said that India, on an annual basis, is ahead of China and will regain the growth momentum soon on the back of host of reforms initiated by the Narendra Modi Modi government.
India lost the tag to China in the March quarter with the GDP growth slipping to 6.1 per cent. China recorded a growth rate of 6.9 per cent during the January-March quarter. However, on an annual basis, India grew by 7.1 per cent in 2016-17.
"India will return to be the fastest growing major economy in the first quarter (April-June) of 2017-18. If we see 2016-17 fiscal year growth figure, we are ahead of China. On quarterly basis, we will regain the status in the current quarter," he said.
Panagariya further said that the growth will rebound in the current fiscal at a minimum of 7.5 per cent and accelerate further in the coming years. 
He said that government has taken lots of reform measures and country will get to the 8 per cent growth trajectory in the next two years.
"Government has taken lots of reform measures. Our FDI is now around USD 60 billion. In the next two years -- 2018-19 and 2019-20 -- we will get to the 8 per cent growth trajectory," he said.
India's growth slipped to a three-year low of 7.1 per cent in 2016-17 on account of poor performance of manufacturing and services sectors.
The GDP growth was at 8 per cent in 2015-16 and 7.5 per cent in the previous year.
When asked if it was on account of demonetisation of high value currency notes in November last year, Panagariya said that the declining trend was containing and note ban, at best, would have had only a "marginal impact".
On November 9, 2016, the government had demonetised higher value currency which wiped off about 87 per cent of notes in circulation, leading to a severe cash crunch and disruption in the economic activities.
'Huge debt pile makes Air India stake sale very difficult'
Panagariya said that selling stake in Air India will be 'very very difficult' with its debt burden of Rs 52,000 crore and the government has to decide if there should be partial or full write off of debt.
Stressing that the government has to first decide whether the national airline should be privatised or not, Panagariya said various issues need to be discussed. 
"Assuming that the decision is made to privatise (Air India), then the issue comes what is the universe of potential buyers... only the national buyers or will we allow foreign entities also to bid for it," he said.
Loss-making Air India, surviving on taxpayers' money, is facing tough business conditions amid stiff competition. 
Panagariya noted that another issue is if the government should retain some stake in it, however small, "because there is the issue that it (Air India) is a national carrier and therefore, we should maintain that". 
About the airline's debt burden, the NITI Aayog Vice Chairman said the last number he heard was Rs 52,000 crore. 
"That's a very large number... selling it (Air India) with the existing debt is going to be very very difficult even say, it is open to both domestic and foreign buyers. Something will need to be done on debt issue also. The question largely is whether the government of India writes off the entire debt or some part of it. All this needs to be discussed," he said. 
NITI Aayog has given its recommendations on making Air India strong and viable and those are being looked into by the Civil Aviation Ministry. 
'Existing unemployment surveys unreliable'
In the face of criticism that the NDA government policies promote jobless growth, Panagariya trashed unemployment surveys as unreliable and said it has set up a task force to produce authoritative annual nationwide employment data based on household surveys.
"We don't have an existing survey from which we can get the numbers (of unemployed). In the process, the debate on jobs has happened in a vacuum," he said, while referring to surveys done by the Labour Bureau in 2015 which showed that only 135,000 jobs were added by certain sectors that year.
"There is serious problem with these surveys in eight sectors of the economy, where the total workforce covered is three crore, out of a countrywide workforce of around 47 crore. Even these three crore come from 11 states. It is a non-random survey sample from which you're trying to arrive at the population numbers, which you cannot. One can't extrapolate from the sample to the population," he added. 
Panagariya said the unreliability of surveys had led to NITI Aayog setting up a task force to produce authoritative data based on regular surveys.
"Whether the unemployment figures have gone up or down, we don't have the numbers. This has triggered setting up of a task force I am heading that will lead to regular household-based surveys, which will help produce annual and quarterly employment estimates," he said. 
He elaborated that the National Sample Survey Office had already begun this exercise in April and in the weeks to come, "not months", the country would see another assessment of unemployment figures. 
The NITI Aayog Vice Chairman said most of the "administrative data" in this regard from bodies like the Employees Provident Fund Organisation (EPFO) are of the formal sector.
"In India, the formal sector is the weaker part, not the dynamic one... and this has been the case for the last 60 years. So we have to be circumspect before taking this data as the real indicators," he said.