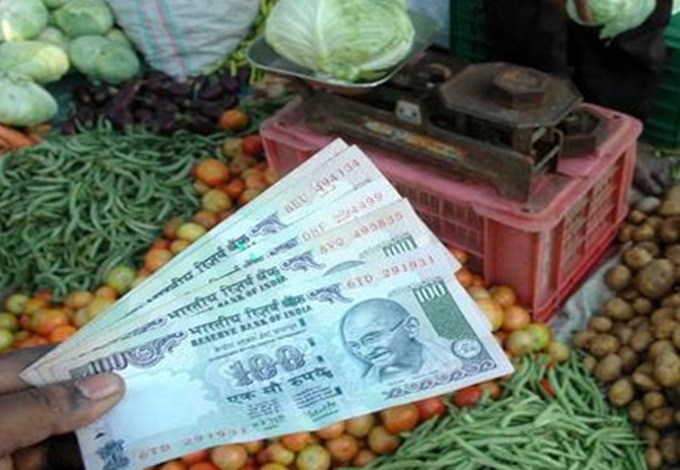 Amid the unprecedented cash crunch following Centre's demonetisation move, India's annual retail inflation eased last month to 3.63 per cent from 4.20 per cent in October and 5.41 per cent reported during the corresponding period last year. 
A sharp drop has been seen in prices of food items, reflecting weak demand as consumers grappled with cash crunch following demonetisation. 
This is the lowest level at least since January 2014 and the consumer inflation was seen near this level at 3.66 per cent in August 2015. 
The Consumer Price Index-based inflation stood at 4.20 per cent in previous month October, the data released by the Ministry of Statistics and Programme Implementation showed. 
Retail inflation was at 5.41 per cent in November 2015. Inflation in vegetables category slipped further in the negative territory at (-)10.29 per cent indicating deflation, as against (-) 5.74 per cent in October. 
However, inflation in fruits came in at 4.60 per cent, slightly up from October's 4.42 per cent. Cereals and products at 4.86 per cent too showed a rise in inflation print during the month against 4.40 per cent. 
Protein rich meat and fish had inflation print of 5.83 per cent in November as against 6.16 per cent in October. Egg prices witnessed 8.55 per cent rise as against 9.42 per cent in the previous month. 
Prime Minister Narendra Modi's surprise announcement on November 8 to scrap Rs 500 and 1,000 notes, nearly 86 per cent of the total cash in circulation, has resulted in lower consumer demand. 
Overall, the Consumer Food Price Index was down at 2.11 per cent compared with 3.32 per cent in October. 
The CPI-based inflation in fuel and light segment was at 2.80 per cent in November as against 2.81 per cent a month ago. 
Rural retail inflation stood at 4.13 per cent in November compared with 4.78 per cent in October. For urban sector, it was recorded at 3.05 per cent as against 3.54 per cent in the previous month.
Prime Minister Narendra Modi announced the decision to withdraw Rs 500 and Rs 1000 notes 8 November which amounted to 86 per cent of the total value of currency in circulation. The move, experts believe, has led to demand compression and hit small businesses. 
In its monetary policy announcement on December 7, the Reserve Bank of India (RBI) kept its interest rates unchanged holding that crude oil prices may firm up in the coming months which could reverse the gains from softer vegetable prices. 
The central bank is targeting to keep retail inflation under 5 per cent in the fourth quarter. 
Crude oil prices reached to an 18-month high at USD56.44 per barrel on Monday following a  decision by members of Organization of the Petroleum Exporting Countries (OPEC) and oil producers outside the group to reduce crude oil output almost by 2 per cent of global oil supply.