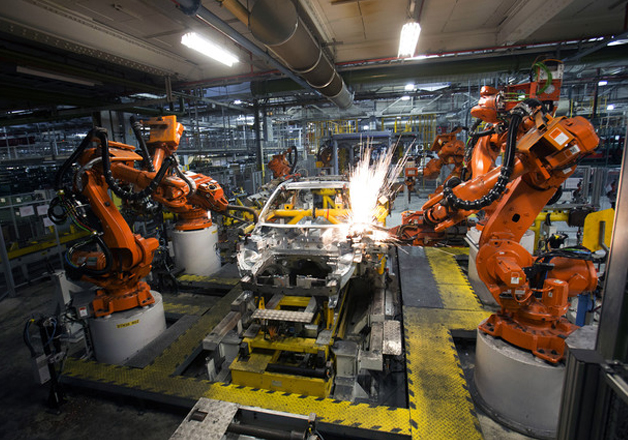 The country's industrial production recovered marginally in September. As per the data on Index of Industrial Production (IIP) released by the Central Statistics Office (CSO) here on Friday, the factory output inched up by 0.72 per cent from a deceleration of (-) 0.67 per cent in August and a 3.7 per cent rise in the corresponding month of last year.
The marginal growth was mainly on account of a 0.9 per cent rise in manufacturing output, which also has the maximum weight in the overall index.
Among the other two major sub-indices, electricity generation rose by 2.4 per cent, while that for mining declined by (-) 3.1 per cent.
The cumulative growth of the country's factory output declined by (-) 0.1 per cent in the first six months of the current fiscal year.
Cumulative growth during the corresponding period of last fiscal stood at 4 per cent. 
In addition, the data revealed that among the six use-based classifications of the index, the output of consumer durables segment expanded by 14 per cent in September. 
The consumer goods segment's output increased by 6 per cent, whereas the consumer non-durables segment inched up by 0.1 per cent. 
However, capital goods segment, which is a key indicator of economic activity plunged by (-) 21.6 per cent. 
The basic and intermediate goods' output rose by 4 per cent and 2.2 per cent, respectively.
Overall, only 12 out of the 22 industry groups in the manufacturing sector have shown negative growth during the month under review.
Segment-wise, growth was witnessed in 'woollen carpets' (149.2 per cent), 'ship building and repairs' (81.4 per cent), 'instant food mixes (ready to eat)' (51.4 per cent), and 'scooter and mopeds' (27.4 per cent).
Moreover, high negative growth was reported in the 'cable, rubber insulated' ((-) 85.8 per cent), 'sugar machinery' ((-) 59.1 per cent), and 'leather garments' ((-) 20.6 per cent).
India Inc. on its part said that there is a need to address "deeper structural" issues to ensure that growth revives.
"The de-growth in key sectors like capital goods, mining, apparels, chemicals and electrical machinery is indeed a cause for concern," A.Didar Singh, Secretary General of Ficci, was quoted as saying in a statement. 
"The situation demands that the Government should now provide relief to the industry by lowering the interest cost burden and taking sector specific measures to boost growth", Singh added.
Another leading industry body Assocham pointed out the need for "creating a conducive environment for investments", capacity utilisation and augmentation of industrial production.
"The policymakers should concentrate on reviving the demand domestically as global growth including exports and industrial activity are likely to remain weak, uneven and might struggle to gain traction," said Sunil Kanoria, President of Assocham.
"Competitive interest rates are necessary for reviving investor sentiments which, in turn would help put the economy back firmly on the growth trajectory."
With IANS Inputs