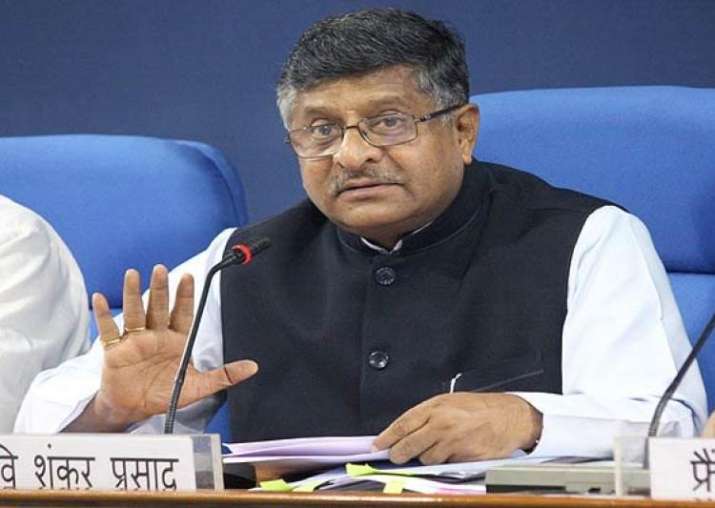 Union IT minister Ravi Shankar Prasad has categorically brushed aside fears of a downturn in the technology sector, saying the digital economy will touch $1 trillion (Rs 600 lakh crore approx) in the next five to seven years.

 

"Once the digital economy is here, you will see how much it will progress," the minister said during an interaction with reporters at a press meet in the ministry on achievements of the Narendra Modi government in three years.

"The digital economy in the country will become a one trillion economy in the next five to seven years," he said.

 

The minister cited Nasscom's assessment which denied reports of an employment slump in India's IT industry and that 20-25 lakhs jobs will be created in the next 4-5 years.\

 

The Indian IT companies currently serve two-thirds of the Fortune 500 companies and have created 40 lakh direct jobs in India, the ministry said in a statement.

 

"Nasscom has confirmed that the industry continues to be a net hirer and reports that 2.5-3 million new jobs will be created by 2025. In 2016-17, the industry added 170,000 new jobs," the release said.

 

Prasad said that the government's current thrust on digital economy will also create a slew of new jobs in the industry.

 

He added that in the last three years, the number of common service centres has increased to about 2.5 lakh which employ almost 10 lakh people and did business of around Rs. 1800 crore out of which Rs. 600 crore came only from Aadhaar.

 

The minister informed that the government has appointed consultancy firm McKinsey to prepare a roadmap for the digital economy for the next few years.

 

He further said that the government has decided to corporatize the Digital India campaign and call it is 'Digital India Corporation' with an aim to work in a proper structure and management.

 

"Corporatizing digital India provides great flexibility and greater opportunity for talent and faster decision making." Prasad drew a parallel with the success of Aadhaar and MyGov and said that work will begin in this direction soon.

 

Speaking on the recent cyber-attack by ransomware virus 'WannaCrypt', the minister said India was least affected.
We had already taken proactive measures by installing Microsoft patch files from March itself, which are being updated regularly, he added.

 

The minister said that the National Cyber Coordination Centre (NCCC), a measure to further strengthen India's cyber security, is expected to become operational from June this year.