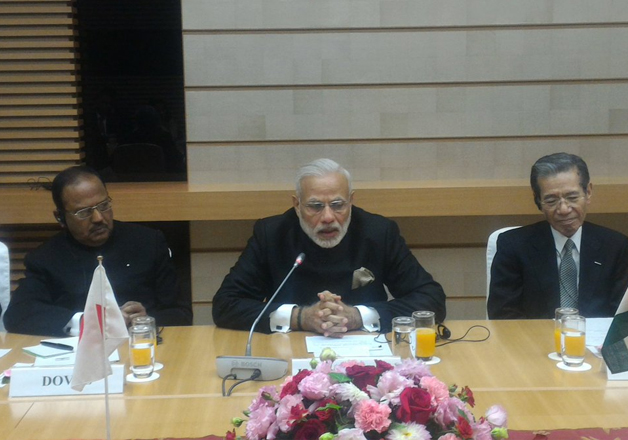 Prime Minister Narendra Modi, who is on a three-day visit to Japan, today met members of the India-Japan Business Leaders' Forum in Tokyo.
Addressing the meet, PM Modi mentioned his longstanding ties with Japan since he was the chief minister of Gujarat and said that New Delhi has favourable business environment which Tokyo can take advantage of. 
He also pointed out the progress on GST and talked about other reforms in policies and rules to make investments and doing business easier in India. 
He said his government was committed to further reform policies to boost 'Make in India' and for creating conducive business environment through stable and transparent regulatory mechanisms. 
"My government has taken steps to implement your suggestions," he told the members.
Inviting Japanese technology and experience to India, he said that the country is a land of prospects and opportunity.
Getting down to business. PM @narendramodi and the CEOs of the India-Japan Business Leaders' Forum take a group pic pic.twitter.com/gXpDNxfUJm

— Raveesh Kumar (@MEAIndia) November 11, 2016
"India is pursuing a new direction of economic reforms...My resolve is to make it the most open economy in the world," he said. 
Noting that India's development needs are "huge and substantial", he said there are unprecedented opportunities for Japanese companies in the country. 
"We seek rapid achievement of our developmental priorities, but in an environment-friendly manner." 
"India's prowess in software is complemented by Japan's strength in hardware. Want to assure you that we will provide a level-playing field," he told business leaders.
Earlier in the day, PM Modi called on Japanese Emperor Akihito in Tokyo and discussed on the common bonds between India and Japan and the future of Asia.
PM Modi will later in the day hold bilateral talks with his Japanese counterpart Shinzo Abe and ink as many as 12 pacts.
With PTI Inputs