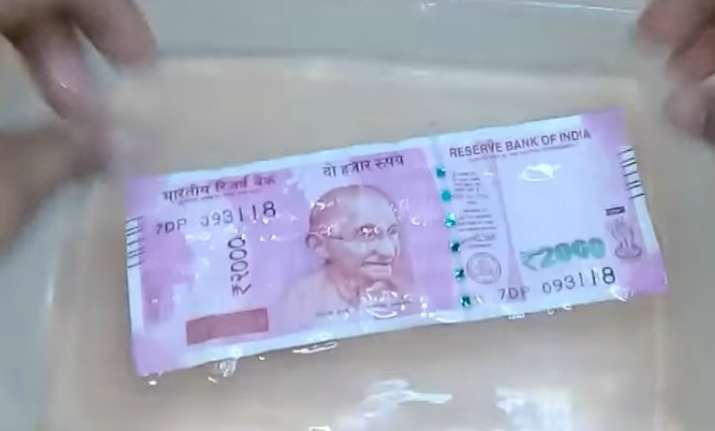 Ever since the arrival of the new Rs 2,000 notes following government's surprise move of demonetising old Rs 500 and Rs 1,000 notes, social media has been abuzz with a lot of rumours about it. 
Initially, there were reports of a GPS chip being inserted in the new notes, which were denied by the RBI. Now, there are reports of the new 2000-rupee running colour when washed. 
But, Economic Affairs Secretary Shaktikanta Das has cleared the confusion surrounding the colour leak from the new currency notes said that it is normal for the notes to lose some colour when dissolved in liquid. He added that it's the nature of the paper the notes are made from. 
When asked about various videos of people showing the new notes losing colours, he said, "The new currency notes, just as the old ones, will lose colour if rubbed with a piece of cloth wet because that's the nature of the dye used. If your note does not lose colour, it's one of the signs that it may be fake".
The new notes not only have several security features difficult to counterfeit, there are many ways the users can verify if the notes are genuine. 
The touch and feel of the notes can be used for this. The seven "bleed lines" on the side of the Rs 2,000 notes, and five lines on Rs 500 notes are in raised printing or intaglio. The security thread in both the notes changes colour from green to blue at different angles.
Also, the numeral 500 and 2,000 on the right side also change colour when seen at different angles.
These can be easily identified by any user and are very hard to counterfeit, according to experts.
The new notes have changed colours. While the Rs 2,000 note's paper is in magenta, the Rs 500 note is in stone gray.
The Rs 2,000 note is part of the Mahatma Gandhi (New) series, with a motif of Mars orbiter Mangalyaan on the reverse. Size is 66mm x 166 mm.
Other features of the new Rs 2,000 note are as follows:
Front side features 
•    See through register where the numeral 2,000 can be seen when note is held up against light
•    Latent image of 2,000 can be seen when the note is tilted
•    Colour shift security thread with 'RBI' and '2,000'
•    Watermarks of Mahatma Gandhi and electrotype 2,000 numeral
•    Number panel with numerals growing from small to big on top left and bottom right sides
Reverse side features
•    Swachh Bharat logo
•    Mangalayan motif and year of printing, 2016
Front side features (Rs 500 notes)
•    See through register in denomination numeral
•    Latent image of the denomination numeral
•    Orientation of Mahatma Gandhi's portrait changed
•    Portrait and electrotype watermarks
•    Number panel with numerals growing from small to big on top left and bottom right sides
•    Features for visually impaired like circle with Rs 500 in raised print on the right
Reverse side features (Rs 500 notes)
•    Swachh Bharat logo
•    Red Fort image with the Indian flag
•    Circle with Rs 500 in Devnagari on the right