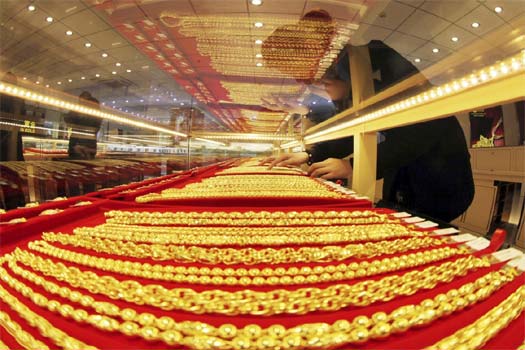 In yet another shocking revelation shedding light on the devious ways adopted by people to convert banned notes into gold, a survey conducted by the Directorate General of Central Excise Intelligence (DGCEI) has found that over four tonnes of gold worth over Rs 1,250 crore was sold within 48 hours of the announcement of the 'demonetisation' drive. 
According to an Economic Times report, the officials claimed that two tonnes were sold on November 8. This was probably the highest retail sale on any given day, giving rise to suspicions of huge money laundering activities, allegedly to convert the banned notes into gold. 
The bank accounts of a leading Delhi-based jeweller revealed that he sold 45 kg gold to 400 people on November 8, while a day before, he had sold just 820 gm. Similarly, Lalita Jewellers in Chennai sold 200 kg of gold jewellery on November 8, whereas a day before, it had sold less than 40 kg. 
The government has already detected central excise duty evasion to the tune of Rs 20 crore based on the sales admitted by over 400 jewellers and bullion traders surveyed across the country since demonetisation. 
The report cited the officials claiming that the evaded duty is likely to cross the Rs 100 crore mark once the scrutiny is completed. 
The DGCEI survey was initiated after reports of money laundering started pouring in from different parts of the country soon after the November 8 announcement. Since then, the agency has served 300 notices on jewellers across the country who are suspected of tax evasion and money laundering. 
While jewellers across the country have admitted these unusual sales in their books, they have not included the large-scale illicit sale and smuggling of gold bricks. For instance, the I-T department had, in a single raid in Chennai last month, seized 170 kg of gold.