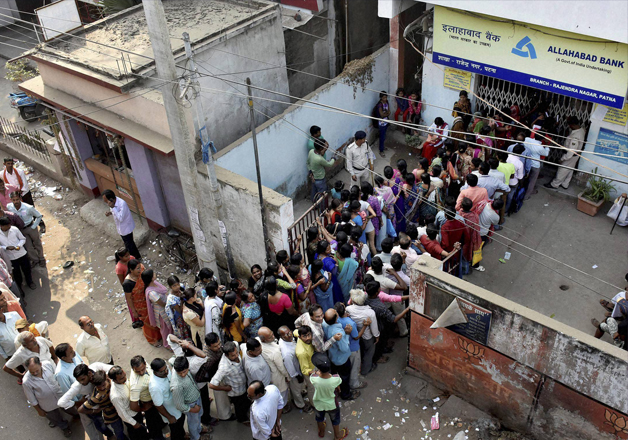 Industry body Assocham has suggested government to hire retired bank staff on a massive scale and mobilise all resources across different departments to deal with the heavy rush at banks and ATMs following demonetisation announcement.
"Just like general elections when staff across different departments is mobilised, different types of staff can be used for helping the over-stretched banks, grappling with the huge task of dealing with the demonitised currency notes of Rs 500 and Rs 1,000 and dispensing the new notes," Associated Chambers of Commerce and Industry of India (Assocham) said in a statement here on Monday. 
The best option appears to be employing the retired bank staff on a mass scale on short-term contracts of three to six months, it said. 
While some banks like the State Bank of India and a few others have roped in retired staff, the exercise should be done on a massive scale to deal with the situation, Assocham said. 
"While preference can be given by the banks to re-employ their own retired personnel, even cross -bank staff would be helpful. After all, functioning of the public sector banks is generally the same," said Assocham Secretary General D.S. Rawat. 
The chamber said the options should be explored to divert staff of other financial services wings and PSUs in the insurance sector for the banking operations for the moment. 
The PHD Chamber suggested the government to pay an advance of Rs 10,000 in cash per employee from their November salaries to government, public sector and private sector with the new Rs 500 notes. 
"This suggestion would also avoid overflowing queues and hardship being faced by most of the citizens and would also avoid loss of productivity due to employee absenteeism in organizations," it said in a representation submitted to the finance ministry. 
PHD Chamber President Mahesh Gupta said that the suggested move would amount in reducing queuing outside banks and ATMs across the country. 
"It would immediately make new currency available in one day without stressing banks and post offices," he said.
With PTI Inputs