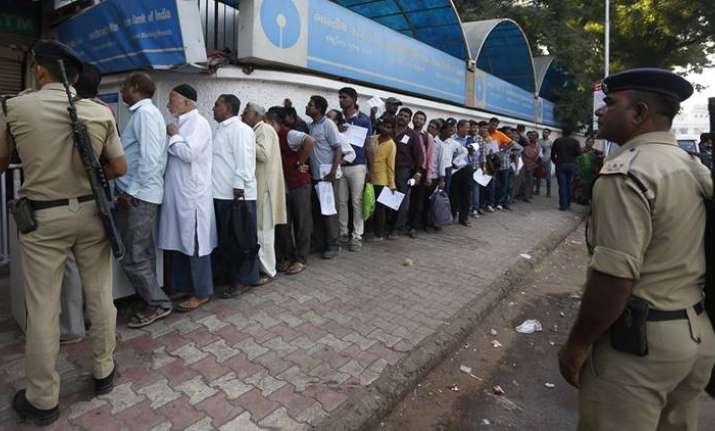 Asking the people to be "patient", the Reserve Bank of India (RBI) today said that enough cash is available for exchanging the scrapped Rs 500 and Rs 1,000 notes.
"There is enough cash available with banks and all arrangements have been made to reach the currency notes all over the country. Bank branches have already started exchanging notes since November 10, 2016," Reserve Bank of India said in a statement.
The RBI, however, conceded that it may take a while for banks to recalibrate ATMs.
"Once that is done, members of public will be able to withdraw from ATMs up to a maximum of Rs 2,000 per card per day up to November 18, 2016. After that, they will be able to withdraw up to Rs 4,000 a day per card," the statement added. 
The RBI statement further said that consequent to the withdrawal of Legal Tender Character of existing Rs 500 and Rs 1000 Bank Notes, it has made arrangements to distribute the notes in new Rs 2000 and other denominations across the country.
Several ATMs have started functioning from this morning after the banks completed recalibration of these machines to allow withdrawals up to Rs 2,000 to begin with. 
There were huge queues outside the banks for the second consecutive day today after the government scrapped Rs 500/1000 notes to combat black money. 
Amid the woes of the harried customers, a 73-year-old person, Vishwanath Vartak, reportedly died in a suburb of Mumbai while standing in one such queue. 
Meanwhile, SBI chairperson Arundhati Bhattacharya said her bank has collected Rs 53,000 crore (from November 10 till around 2 pm on November 11) after the demonetisation of higher value currency.
(With PTI inputs)