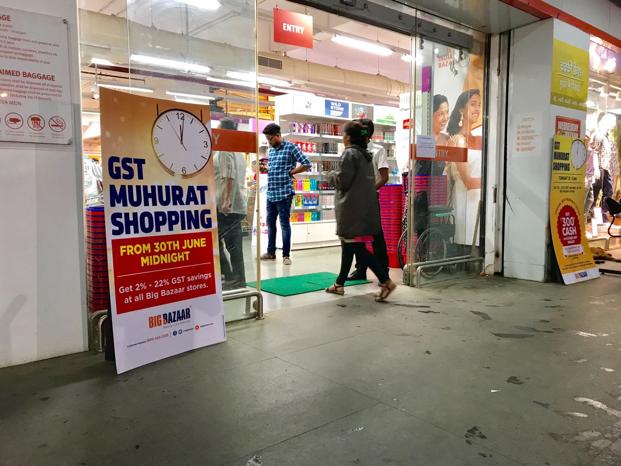 In a historic moment for India, the Goods and Services Tax (GST) -- India's biggest tax reform since independence -- came into force today, unifying more than a dozen central and state levies and creating a uniform tax rate across the country. The new tax regime has reduced tax rates on some of the products as government has put essential items in lower tax brackets. The companies are expected to pass on the benefits of lower tax to consumers and this has started showing in the new bills today. Maruti was the first major company to announce a cut in the prices of its cars, passing on the benefits to its customers. Besides, some retail stores like Big Bazaar, Max and Myntra have also announced discount offers. 
Here are some of the outlets where you can avail benefits of reduced prices after the GST:
Big Bazaar
At 12:00 am on July 1, when the GST was launched from the Central Hall of Parliament, Big Bazaar opened its doors for two hours till 2 am, offering heavy discount and cashback offers to its customers. The sale, termed as "GST Muhurat Offer" by the retailer, was a huge success as people thronged the stores in huge numbers. The discount offer continues on its products where the company claimed that customer can save up to 22 per cent. 
Maruti
Automobile sector is one of the largest beneficiaries of the new tax rates under the GST. From two-wheelers to SUVs, all will now attract lower tax under the GST regime. Maruti has already announced up to 3 per cent cut in its prices and many more are expected to follow suit. 
Myntra
The online fashion store is offering discount of 50-70 per cent under "Great GST Discount" sale. Under the new indirect tax regime, apparel up to Rs 1,000 will attract a 5 per cent tax, lower than the existing 7 per cent. However, those that cost above Rs 1,000 will attract 12 per cent. Clothes under the price of Rs 1000 will get only cheaper while the price of clothes in higher price range will also come down marginally, depending upon the VAT in a state. 
Westside
The flagship store of Tata Group is offering upto 60 percent off and extra 5 percent discount on purchases above Rs 5000.
Max Fashion
The fashion brand is offering flat 50 per cent discount on its products in post-GST sales. The retailer sent a promotional text message using PM Modi's cathphrase "Mitron". "Mitron, enjoy flat 50 percent and extra 5 percent cashback on tons of new styles...," reads a text read. 
Shoppers Stop
The multi-brand store is offering flat 50 percent discount to its customers with loyalty cards.