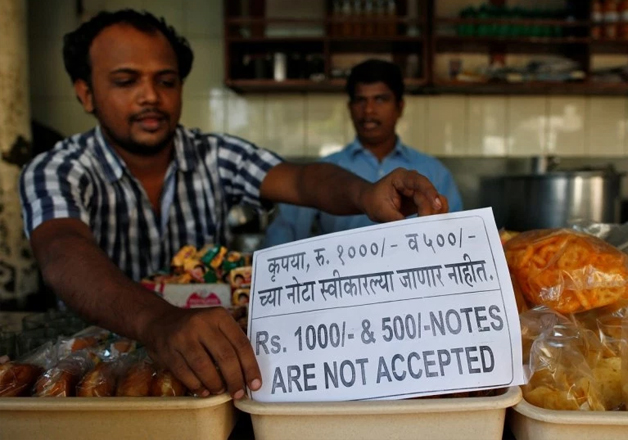 India's epicentre of financial activity Mumbai has been badly hit by the government's decision to demonetise Rs 500 and Rs 1,000 notes. Even after 10 days, several businesses in the city have failed to gain its 'lost' charm and run smoothly. 
From daily wages workers to restaurateurs, everybody is facing the heat. While property registrations have come down drastically, restaurants and street hawkers have seen a 50 per cent drop in daily earnings.
Traders at Navi Mumbai's Agricultural Produce Marketing Corporation (APMC) have also reported 50 per cent drop in business after government's decision to fight black money. 
According to an estimate, the losses businesses in Mumbai have incurred since November 9 stand at an estimated Rs 700 crore.
"It seems business is 50 to 75% down, depending on the sector, but the sectors where discretionary expenses are involved such as entertainment are hit the hardest," Atul Joshi, CEO, Oyster Capital Management, said.
The Indian Hotels and Restaurant Association (AHAR) said that the industry that generates Rs 32,000 crore per annum has witnessed nearly 40 per cent less business in last 10 days.
"Restaurants in Mumbai generate around Rs 90 crore a day, but now it's down to around half that. In the first few days following the demonetisation, it was around 60 per cent," Adarsh Shetty, president, AHAR, said.
Shetty, however, added that things have stabilized a bit now.
Also the daily turnover of the retail sector has dropped nearly by 50 per cent to Rs 350 crore. 
Viren Shah, president of the Retail Traders Welfare Association noted that people are spending only on essentials and emergencies due to the demonetisation.
The auto drivers too have been affected due to this. According to Auto Rickshawmens Association, drivers collectively earn around Rs 450 crores a month but now they are earning 50 per cent less. 
The Mumbai Taximen's Union says that business is down by 25 per cent.
The single-screen theatres have only had 30 per cent of the total business since November 9. 
Maharashtra's department of Registration and Stamps show that there has been a 37 per cent dip in daily registrations of property since November 10. 
The department, which earlier used to get around 7,300 documents daily, is now receiving only 4500 documents. The daily collection of the department was around Rs 65 crore, but after demonetization, it is making only Rs 45 crore per day. 
Taking the nation by surprise, PM Narendra Modi had on November 8 late evening night announced demonetisation of Rs 500 and 500 notes to fight black money, fake currency and corruption.