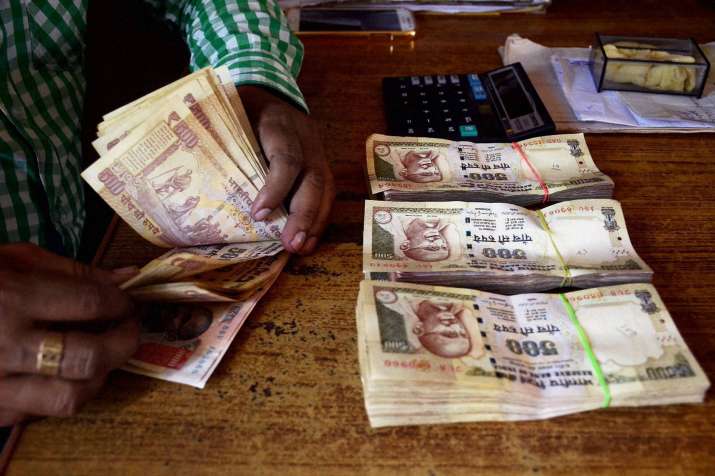 The masterstroke by Prime Minister Narendra Modi to demonetise Rs 500 and Rs 1,000 notes has come as a massive shock to blackmoney hoarders in the country.
According to RBI data, with the November 8 announcement, approximately Rs 14.18 lakh crore value of bank notes or 86 per cent, out Rs 16.42 lakh crore in circulation as on March 31, 2016, consisted of Rs 500 and Rs 1,000 notes.
Before November 8 decision, Rs 500 notes with a total face value of Rs 7.85 lakh crore were in circulation whereas Rs 1,000 notes add upto Rs 6.33 lakh crore.
According to an estimate, approximately Rs 10 lakh crore of black wealth lies hidden in tax havens across the country. This, however, excludes wealth invested in physical assets like real estate, gold or art.
Meanwhile, people who have blackmoney in cash are now left with two options -- either deposit the money in banks or exchange it. 
As per the RBI guideline regarding deposit or exchange of old notes, one can only exchange Rs 500 and Rs 1,000 notes of aggregate value of Rs 4,000 daily till November 24, meaning a person can exchange Rs 60,000 (Rs 4,000 x 15 days). From November 24 onwards, to ease the process, exchange limit will be increased. 
When it comes to deposit cash in account, there is no limit. However, persons depositing cash more than Rs 2.5 lakh, before December 31, will attract tax plus a 200 per cent penalty if there is an income mismatch.
People who missed the Income Declaration Scheme's September 30 deadline will have in their possession a 'worthless piece of paper', as announced by PM Modi, if they choose not to deposit or exchange notes.
Instances of cash-for-vote prevalent in Indian elections -- in the form of bundles of cash in deligitimised denominations -- may not work anymore.
While bank notes increased 40 per cent from 2011 to 2016, Rs 500 notes increased 76 per cent and Rs 1,000 notes increased 109 per cent, according to the Finance Ministry.
Cheaper money now illegal, costlier money stays
The Rs 1,000 note was the cheapest note produced in India. It required only 0.32 per cent of its face value to produce but a Rs100 note requires 1.8 per cent of its face value, a Rs50 note 3.6 per cent and a Rs10 note 9.6 per cent to print.
Positive effect
The move will also have a positive byproduct: individuals and households with no bank accounts -- keeping all income in cash and at homes -- will now have to create bank accounts to deposit money, making financial inclusion indirectly inevitable.
The sectors that could probably be hit the worst in the short-term could be bullion and real estate since they handle a lot of transactions in cash.