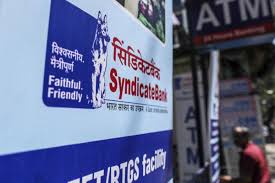 The CBI has registered a case against two former additional general managers and two ex-chief managers of Syndicate bank and others for causing an alleged loss of Rs 209 crore to the bank.
The agency registered the case under sections of criminal conspiracy, cheating and forgery of the Indian Penal Code and Prevention of Corruption Act following a complaint from Syndicate Bank against its ex-employees, an official said on Saturday. 
It is alleged that the four former bank officials and six persons, including a chartered accountant and a builder, committed the fraud in the bank's two branches in Jaipur and Udaipur in Rajasthan. 
"An alleged loss of Rs 209 crore was caused to the bank by the accused as they conspired with each other and availed home loans and credit facilities from Jaipur and Udaipur branches of Syndicate Bank on the basis of forged and fabricated documents. 
"The funds so disbursed by Syndicate Bank were diverted and fraudulently siphoned off to the companies owned by accused persons, thereby causing an alleged loss to the bank," Central Bureau of Investigation (CBI) spokesperson R.K. Gaur told IANS. 
The official further said that separate CBI teams on Saturday conducted searches at the residential and official premises of the accused persons at four places in Jaipur and Ajmer and recovered some incriminating documents.