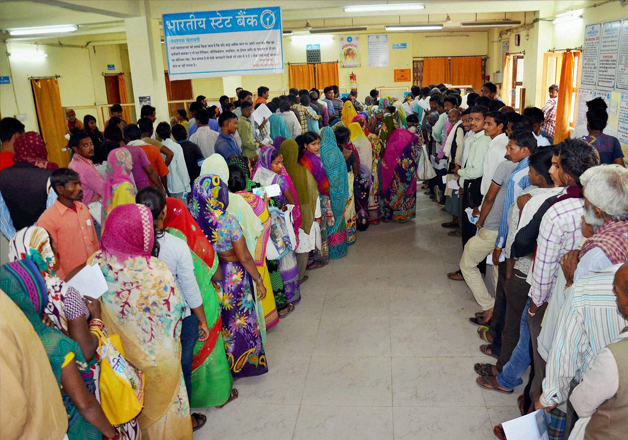 Tens of thousands of anxious people massed outside banks and ATMs across the country today for a third day to deposit, exchange their scrapped Rs 500 and Rs 1,000 notes and also to withdraw cash.
Long serpentine queues were witnessed at bank branches. Similarly, people were seen impatiently waiting outside ATMs to withdraw money. 
People including elderly and women in large numbers were queueing up to get the valid currency notes needed to meet their daily expenses. 
Many ATMs, which reopened four days after Prime Minister Narendra Modi announced demonetisation of two higher value currency notes, ran out of cash in few hours, leaving people frustrated. 
To add to the misery still half of the ATMs are non-functional, making people agitated about the lack of infrastructure preparedness for the note exchange programme. 
There are about 2 lakh ATMs across the country. Banks have said that cassette configuration at ATMs will take around 10 days disburse new Rs 500 and Rs 2,000 notes.
The endless wait to get valid currency notes are taking toll on people waiting for hours in long queues as there were reports of many elderly people collapsing. 
Bank of India, HDFC Bank, Yes Bank, Bank of Baroda, Axis Bank, ICICI, Standard Chartered, Kotak Mahindra... the crowds were the same everywhere.
According to bankers, the situation is unlikely to change for some more time, may be another 8-10 days. They also expressed their apprehensions with regard to chances of crowd becoming unruly for which they feel banks don't have adequate security arrangements. 
Reports of chaos and scuffle at bank branches and ATMs streamed in from different parts of the country yesterday. There were also reports of heated exchanges between hassled customers and overworked bank officials at several branches. 
Since the recalibration for higher denomination of valid notes is being done for ATMs, the stock of low value Rs 100 got over very fast because of the huge demand. 
Taking into consideration, problems faced by people, the government yesterday extended use of old Rs 500 and Rs 1,000 notes for paying household utility bills, fuel, taxes and fees as well as purchases from co-operative stores by another 72 hours till November 14.