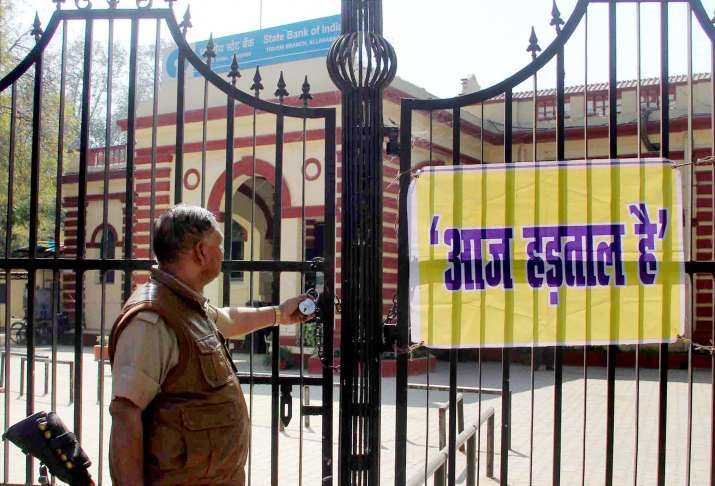 Banking operations across the country came to a halt as nearly 10 lakh bank employees and officials staged a strike on Tuesday, in what was the first major organised protest against the government's "anti-people banking reforms."
The nation-wide strike was called by the United Forum of Bank Unions (UFBU), comprising nine unions of employees of public sector banks, to press for their demands, leaving ATMs dry at various places across the country. 
Employees also pressed for compensation to employees for extra work done on account of demonetisation and action against loan defaulters. 
"Around 85,000 branches of commercial banks, 105,000 branches of co-operative banks and others went on strike," All India Bank Employees' Association (AIBEA) General Secretary CH Venkatachalam told IANS in Chennai.
The strike covered employees and officers in all public sector banks, including State Bank of India, all old-generation private banks, foreign banks, regional rural banks and cooperative banks.
Operations such as clearing of cheques, money transfer, cash remittances and deposit and withdrawals at branches were paralysed across public sector banks and some old generation private sector banks, the All India Bank Employees' Association (AIBEA) claimed.
Venkatachalam said clearance of 40 lakh cheques totalling around Rs 22,000 crore was affected.
 
Karur Vysya Bank and Federal Bank said their staff union and officers' associations under the banner of UFBU participated in the strike, which was called by seven trade unions to press for demands of the banking industry. 
However, branches of new generation private banks like ICICI Bank, HDFC Bank and Axis Bank were functioning as usual. 
Industry body Assocham said the strike may negatively impact forex and paper clearing transactions worth up to Rs 1.3 lakh crore. 
The United Forum of Bank Unions (UFBU), which is umbrella body of nine unions, had called the one-day strike. However, two of Bharatiya Mazdoor Sangh affiliates -- the National Organisation of Bank Workers and the National Organisation of Bank Officers -- did not support the stir. 
"People could not go to banks to transact anything, deposit money, withdraw money or do any other transaction. 
Government treasury transactions could not be done, import and export transactions were hit, money market operations were not possible," AIBEA General Secretary C H Venkatachalam told PTI. 
He said that the strike became necessary due to "the government's ostrich-like approach in understanding the demands. Even very reasonable demands like payment of overtime wages for extra hours worked during demonetisation period has not been settled". 
The strike was to protest against the continued attempts to privatise public sector banks which are the main engine of growth of the economy, he further said. 
According to reports from various parts of the country, including major business centres like Mumbai, Kolkata, Chennai, Hyderabad, Bangalore, Ahmedabad, Pune and Jaipur, functioning of banks and ATMs was paralysed due to the strike.
Indian Banks' Association Chairman Rajeev Rishi said banks had been advised to inform their customers about the strike so that they could complete their urgent and large banking related transactions in advance. 
"We have made sure that alternative banking transaction channels like ATMs are filled up with cash. By and large, banks have made all efforts to minimise inconvenience to customers," Rishi said. 
The demands of trade unions include compensation to employees and officers for extra hours they put in following demonetisation in November and early initiation of next wage revision. 
They are also demanding adequate recruitment in all cadres, stringent measures to recover bad loans and accountability of top executives. Besides, they have pitched for criminal action against wilful defaulters.
 
The UFBU, which claims membership of nearly 10 lakh employees across banks, has also requested the government for cost reimbursement of demonetisation to banks. 
As many as 27 public sector banks control 75 per cent of the total business in the country. 
(With agencies)