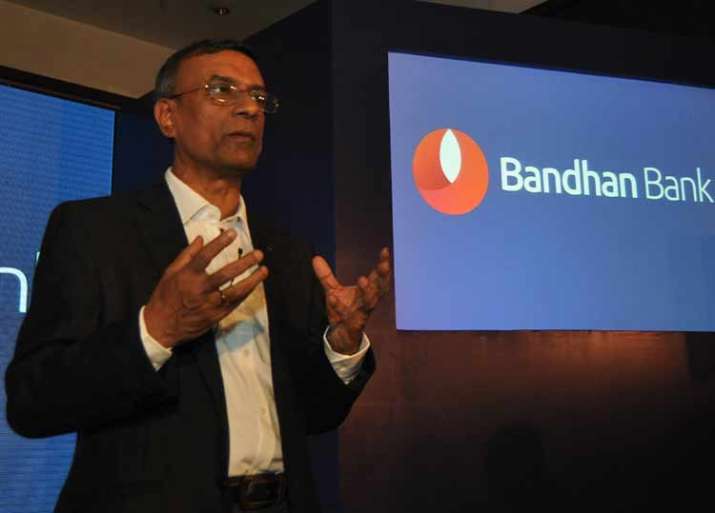 Bandhan Bank will continue to disburse a large chunk of loans as microcredit for some more time as a strategy to grow its business, founder and chief executive Chandra Shekhar Ghosh has said. 
Ghosh, who turned a microcredit institution to a universal bank within one-and-half-years, believes that serving those at the "bottom of the pyramid" is the right strategy to expand business for a bank. 
"We are catering to the bottom of the pyramid. There are people wanting to start new business or expand existing one, or have need for an affordable housing. So, at Bandhan Bank, we are gradually coming to cater to that segment. It is unlike a top-down process," Ghosh told PTI in an interview. 
The bank wants to cater to a large number of customers so the main focus is on disbursing microcredit, he said. 
"The bank has the capacity as well as skills that have been built at the microcredit level to serve the loan requirement of these people," Ghosh said. 
Bandhan Bank presently disburses 91 per cent of its loans in the microcredit form, Ghosh said, adding the portfolio mix need to be diversified as the bank grows its operations in the future. 
With deposit mobilisation worth over Rs 19,800 crore and loan book of about Rs 20,200 crore as on date, the Kolkata headqaurtered bank hopes if the business grows by about 30-40 per cent, it will be able to increase its headcount by 10-15 per cent. 
As of now, the bank has 23,300 employees and hopes to add another 200 by March. 
Asked about demonetisation, he said there were some hiccups initially but the situation is improving gradually.
"Demonetisation was a challenge in initial days, but as of now, it appears to be over. I hope there will be improvement in cash pipeline, but specifically in the case of Bandhan Bank, we are not facing any sort of cash crunch. We have good amount of cash both at the branches and ATMs," he said.
Since its inception in mid-2015, Bandhan Bank's customer base has touched 1 crore. 
The bank presently has 3,507 touch points across India consisting 805 branches and 2,427 doorstep service centres (DSCs) and 279 ATMs.
(With PTI inputs)