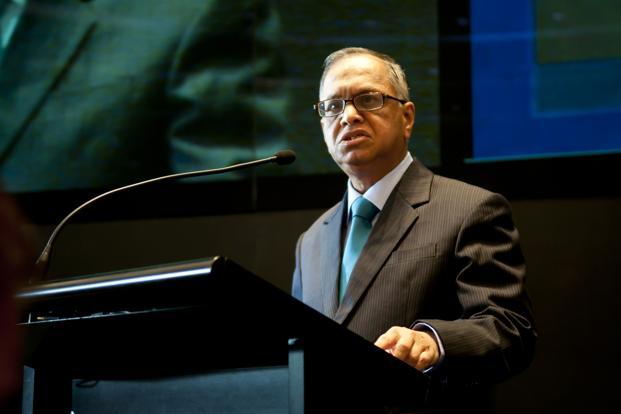 Launching an apparent attack on Infosys founder NR Narayana Murthy over his public interventions regarding the affairs of the company, the IT giant has said in a regulatory filing that the company's performance and stock, in exchanges both in India and the US, could be affected because of actions of activist shareholders.
Infosys also had warned of difficulties in executing its strategy if the management and board continued to spend time on responding to allegations against the company as it did over the past year, Infosys said in its 20-F filings to the US Securities and Exchange Commission on Tuesday. This is the first time that Infosys has listed shareholders as a risk factor in its regulatory filings.
Over the past year, Murthy has gone public with his concerns over what he termed as the "dilution of disclosure norms" by Infosys. The major point of contention has been the management's decision to offer a huge amount as severance package to its former Chief Financial Officer Rajiv Bansal.
In April, Sikka cited "unanticipated execution challenges and distractions" as a reason for slow revenue growth in the fourth quarter ended March. In February, Murthy had gone public against the company, saying it was ignoring his suggestions.
The Infosys founder had also sought accountability by the board, including appointing a co-chairman, which the company obliged by elevating independent director Ravi Venkatesan. Company Chairman R Seshasayee and Chief Executive Vishal Sikka took pains to explain that they were not violating corporate governance norms and efforts are on to plug gaps in their disclosure. 
"Negative media coverage and public scrutiny may divert the time and attention of our board and management and adversely affect the prices of our equity shares and ADSs," Infosys said listing its risk factor. "Actions of activist shareholders may adversely affect our ability to execute our strategic priorities, and could impact the trading value of our securities."
However, Infosys has denied that its regulatory filing was aimed at its promoter group. "We would like to categorically state that 'activist shareholders' called out as a risk in our Form 20F do not refer to any particular group of investors or individuals," an Infosys spokesperson said.  
"Our industry is undergoing a significant transformation. Over the past year, there have been specific instances of companies seeing active participation and discussion with shareholders and stakeholders."
Murthy and the rest of the founders are categorised as promoters, who collectively own a 12.75 per cent stake in the company. A recent report suggesting that the promoter group was considering a complete exit from the company by selling off their remaining stake in the company was denied by the company.