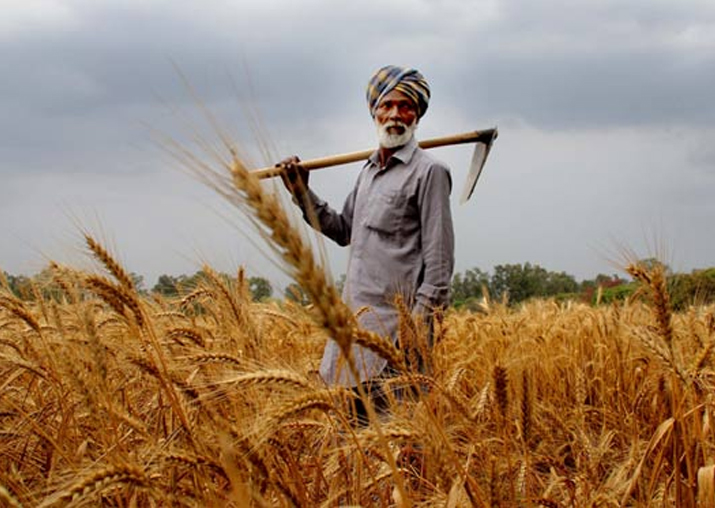 Agriculture and allied sector play a vital role in defining the country's GDP. Even though agriculture as an occupation has its own set of risks, over 58 per cent of the rural households depend on farming to earn their livelihood. 
In the present scenario in our country, the economic contribution of agriculture is steadily declining. Number of farmers suffering from serious distress is at an all-time high. 
Amid reports of record production in last two years and good monsoon in 2017, the number of suicide cases by farmers has refused to come down. 
The sector is expected to grow at 2.12% in the current fiscal against 4.1% in the preceding year, according to Central Statistics Office. However, the government is optimistic that the figure will be much better when the final calculation will be done.
Given the fact that the country received more rainfall in 2017 than previous year, the projected drop-in growth rate is a matter of serious concern for the government. 
This downfall in the farm sector, many say, could be attributed to many reasons including sudden demonetisation decision and hasty implementation of the GST which had badly hit the farmers.
Why worry?  
Demonetisation & GST
The distress caused by November 8, 2016 decision of note ban is well known. Even after one year of demonetisation decision, farmers in different parts of the country were facing a host of issue related to finance. 
By November 2017, farmers had to wait for at least 15 days to get their cheques cleared by banks, putting them under more debt.
Agriculture commands around 16 per cent of the GDP and the implementation of the GST is expected to boost the sector in a long run. Transportation of agriculture products is one of the persistent problems faced by the sector. But with GST in place, a better supply chain mechanism is expected. 
This will ensure reduction in wastage and cost for the farmers and retailers as well. The new tax regime will also assist in reducing the cost of heavy machinery required for farming. However, there are some problems that need urgent attention from the government to channelize the process.
Declining land holdings
The continuous rise in pressure of population on farming and land assets have also added to the woes of the farmers. According to government data, the average farm size in our country is small. Less than 2 hectares of land account for 72 per cent of land holdings, putting a major limitation on farmers to reap the benefits.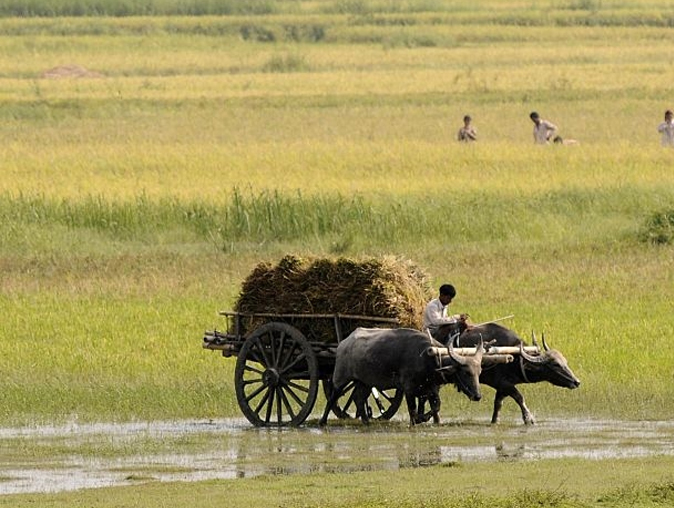 Farm produce prices
The government has set a target to double income of farmers by 2022. But the price uncertainties due to many reasons have so far yielded no positive outcome. Economic survey for 2016-17 pointed out that the price risks are severe since they have very low resilience because of the perishable nature of produce and inability to hold it.
Agriculture experts say that poor costing of produce is among the major reasons for the slowdown in agricultural growth. They say that the costs of farm inputs have increased faster than farm produce prices. Thus the agriculture sector has turned into an unprofitable profession.
Bad loans
The poor valuation of farm produce compels farmers to borrow costly loan from informal sources of credit, deepening the crisis. When it comes to bad loans in the farm sector, only 9 per cent farmers are said to have paid EMIs for their borrowings against 70 per cent in the previous year. In 2017, three major states – Uttar Pradesh, Punjab and Maharashtra announced loan waiver. The cumulative debt package by these three states amounts to Rs 77,000 crore or 0.5% of country's 2016-17 GDP.
As a result of loan waiver, the RBI data show, banks witnessed a spike in agriculture bad debts of Rs 11,400-crore. The Central bank says that NPAs rose over 23 per cent from Rs 48,800 crore in 2016 to Rs 60,200 crore in 2017. It added that bad loans jumped 142.74 per cent from Rs 24,800 crore in fiscal 2012, indicating distress in the segment in the last five years. The RBI data further said that the maximum default took place in 2017 while 2012 to 2017 only showed defaults of Rs 24,000 crore.
Suicides
In India, farmers' suicides account for approximately 10 per cent of all suicides. According to government's data, despite a multi-pronged approach to improve the socio-economic condition of farmers, over 12,000 suicides have been reported since 2013. Seven states -- Maharashtra, Karnataka, Telangana, Madhya Pradesh, Chhattisgarh, Andhra Pradesh and Tamil Nadu, account for 87.5 per cent of total suicides. Ironically, the state of Punjab, which benefited most from the Green Revolution, has between 1995 and 2015, recorded 4,687 farmers' suicides.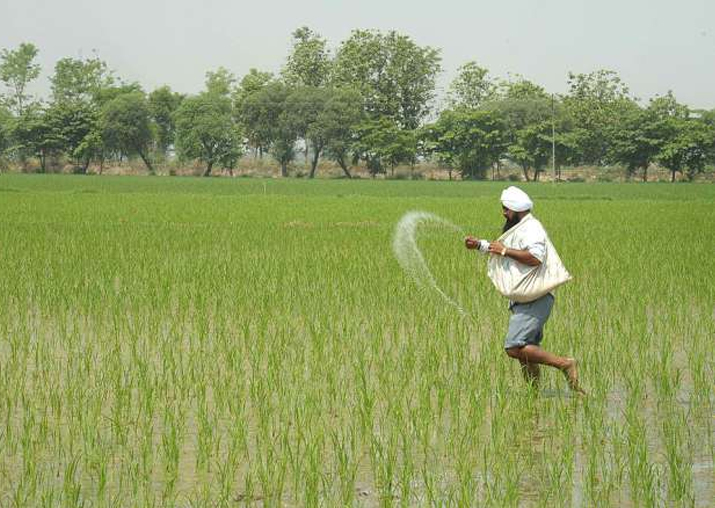 Experts say that there are various reasons for rising suicide cases. These include - high debt, surge in input costs, poor rainfall in some states, poor implementation of government policies, poor integration with market, and personal issues etc.
According to NCRB data, in 2,474 suicides of the studied 3,000 farmer suicides in 2015, farmers had unpaid loans from banks. This is a clear cut indication for drawing correlations between the two. Niti Aayog member Ramesh Chand feels that despite farm loan waivers in many states, things will not change. Chand says that instead of schemes such as farm loan waivers, proper mechanism should be put in place to help the farmers' in long term. Chand said that price deficit finance schemes should be the priority for effective changes.
Initiatives and indications
The growth in the sector is at its lowest since 1991 economic reforms. The average growth in agriculture sector in the last four year is 1.9 per cent. During PV Narsimha Rao's regime, the agriculture growth rate was 2.4 per cent, half of the country's GDP growth. Between 1998 and 2004, when the BJP-led NDA was in the power, the agricultural growth was 2.9 per cent. During the Congress-led UPA 10-year regime, the growth in agriculture sector was 3.8 per cent and 3.7 per cent between 2004-2009 and 2009-2014, respectively.
The sector, which suffered badly despite higher production in the last two years, is set to be a key focus area for the ruling dispensation in the upcoming Budget.
1. The government had in its Budget 2017–18 planned several steps for the sustainable growth. Total allocation for rural, agricultural and allied sectors for was increased by 24 per cent year-on-year to Rs 1,87,223 crore.
2. A dedicated micro-irrigation fund was also announced with a corpus of Rs 5,000 crore.
3. Besides, the government launched the Pradhan Mantri Krishi Sinchai Yojana (PMKSY) with an investment of Rs 50,000 crore aimed at development of irrigation sources for providing a permanent solution from drought.
4. The government has planned to triple the capacity of food processing sector from the current 10 per cent of agriculture produce. As a part of the Scheme for Agro-Marine Processing and Development of Agro-Processing Clusters (SAMPADA), the government had committed Rs 6,000 crore as investments for mega food parks.
5. The government also approved Rs 9,020 crore as Extra Budgetary Resources (EBR) for execution of projects under Accelerated Irrigation Benefits Programme (AIBP) and their command area development (CAD) works under PMKSY.
6. A new platform for selling agricultural produce 'e-RaKam' was launched.
In its recommendations to the government, the NITI Aayog has proposed various reforms in the agriculture sector. The recommendations include: including liberal contract farming, direct purchase from farmers by private players, direct sale by farmers to consumers, and single trader license.
In spite of schemes like Price Stabilisation Fund (PSF), Market Intervention Scheme (MIS) in place, the government is expected to launch a plan to compensate for the losses incurred by farmers. Also, one more scheme is said to be in the pipeline to intervene in farm markets in time of price crash because the previous schemes have proved to be of no use.
To fulfil PM Modi's goal of doubling the income of farmers by 2022, the Agriculture Ministry is already conducting various consultations. It is expected that the agriculture sector will generate better momentum in the next few years due to increased investments in infrastructure such as irrigation facilities, warehousing and cold storage.