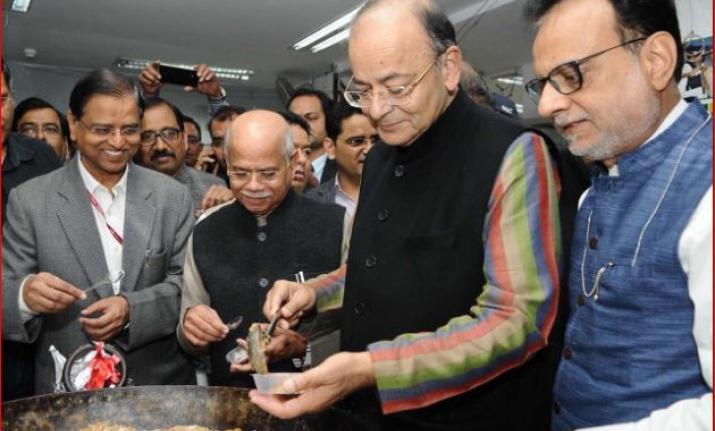 Arun Jaitley is all set to present Narendra Modi government's fifth and final full-fledged budget in the Parliament on February 1.
In political circles, Jaitley is seen as a close confidant of Prime Minister Narendra Modi. He played a crucial role in the anointment of Narendra Modi as BJP's prime ministerial candidate in 2014 parliamentary elections. He also played a significant role in devising the strategy for Narendra Modi's electoral campaign in 2014 general elections.
At the age of 22, Arun Jaitley was put behind bars by the Indira Gandhi government in 1975 after the imposition of the Emergency in the country. Jaitley, who was then a member of the RSS' student wing Akhil Bharatiya Vidyarthi Parishad (ABVP) and president of the Delhi University students' union, spent more than 19 months in a Delhi jail.
Jaitley is one of the renowned corporate lawyers of India. However, he is considered to be equally competent in pleading criminal cases.
In 1989, Jaitley was appointed additional solicitor general of India by the VP Singh government. It was Arun Jaitley who got BJP patriarch LK Advani acquitted by the Delhi High Court in 1997 in the famous Jain hawala diary case.
Arun Jaitley has been a member of BJP's National Executive since 1991.
On 13 October 1999, he was appointed Minister of State for Information and Broadcasting (Independent Charge). He was also given the independent charge of Ministry of Disinvestment, a new ministry created for the first time to give effect to the policy of disinvestments under the World Trade Organisation (WTO) regime.
In recognition to his competence, Arun Jaitley was elevated to cabinet rank in November 2000. He was also given the charge of the Minister of Law, Justice and Company Affairs and Shipping. 
On 3 June 2009, Arun Jaitley was made the Leader of Opposition in the Rajya Sabha.
Interestingly, Arun Jaitley did not contest any direct election until 2014 parliamentary elections. In 2014 Lok Sabha elections, he contested from Amritsar parliamentary constituency though he lost to lost to Congress candidate Amarinder Singh.  
On 26 January 2014, after taking over as Prime Minister of India, Narendra Modi inducted Arun Jaitley in his cabinet and entrusted him with two crucial ministries – Finance and Defence. He was relieved of Defence portfolio later on. 
Under Jaitley's tenure as the Finance Minister, the Narendra Modi government executed two important policy decisions – 1. Demonetisation of high-denomination currency notes and 2. GST rollout.