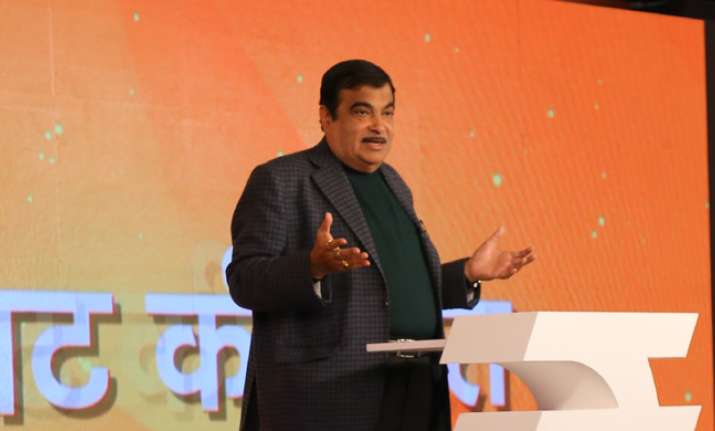 Transport Minister Nitin Gadkari on Friday christened the Union Budget 2018-19 as independent India's first 'Agriculture Budget'. 
Speaking at India TV's Budget Conclave 2018, the senior BJP leader said that in his years of experience he has always felt that the voice of the poor does not reach the Centre govt, but 'I am happy that Jaitley ji and the Modi govt is doing everything possible for such people', he said. 
Gadkari hailed the government's decision to give 1.5 times the MSP on crops despite volatile prices of crops in the international market. "The price of crops is not decided within the country, sugar crop from Latin America or rice yields from another part of the world decides what government can afford to pay for domestic procurements. Thus, giving away fixed price wages to the farmers in such a condition is not fruitful. And yet to promise 1.5 MSP is brave and pro-agriculture," Gadkari stressed. 
Highlighting government's projects for irrigation and infrastructure, Gadkari said that work to clean River Ganga has been afoot as a war pace. "There were 189 projects on River Ganga and we have completed 47 projects as of now. I assure that we will make 80% of the River Ganga pollution free by 2019, we are working on the same," the minister said. 
Gadkari said that the number of projects underway in irrigation, defence and infrastructure will generate lakhs of jobs in near future. "Unemployment is increasing with the growing population in the country, we hope we will be able to take more fruitful steps in this direction, in the years to come," he said. 
Follow live updates on India TV Samvaad on Budget 2018-19
"We are focusing on irrigation, we have opened private sector avenues in defence. In infrastructure I have finished work worth Rs 8 lakh crore and have a target have of Rs 25 lakh crore, which will give direct or indirect jobs to 1 lakh people," Gadkari added. 
The transport minister rejected the premise that the Union Budget 2018 is anti-middle class. "How can you say that this budget is not offering anything to middle-class. In only, We are constructing 14-lane roads and a number of connecting highways to cut down air pollution, within 2 months 50 per cent of Delhi air pollution will be curbed," he claimed. 
Speaking on India TV Budget Samvaad, the minister claimed that the government is working on more public transports and strive to let everyone travel in AC buses.
Stressing on the need of increasing use of innovation, technology and entrepreneurship in India, Gadkari said that the government cannot invest or build a nation alone. "Public-private investment is contributing towards fulfilling a lot of work in the country," he said. 
On petrol and diesel prices, Gadkari clarified that the prices of crude oil cannot be controlled by the Government of India and thus the fuel inflation will rise with rising crude prices in global market. But, the transport minister said, India needs to move towards green technology to reduce dependence on the crude oil market.  
"People will not have to pay for petrol if cars and motorbikes run on solar energy and electricity, but this is a long way dream for now," he said. 
Gadkari also hailed the Budget 2018 for setting aside funds for bamboos so that the ignored crop can be used for bio-ethanol and paper industry. "Conversion of waste into wealth has given us good results in the past and this should also be carried forward in future," he said. 
The transport minister said that he plans to start new projects for aircraft fleet that lands on water, cruises from Mumbai to Andaman and Nicobar and better metro facilities for Mumbai city. 
Also read | Baba Ramdev on India TV Budget Samvaad: 'Middle class not happy with budget, there should be no tax on income up to Rs 5 lakh'