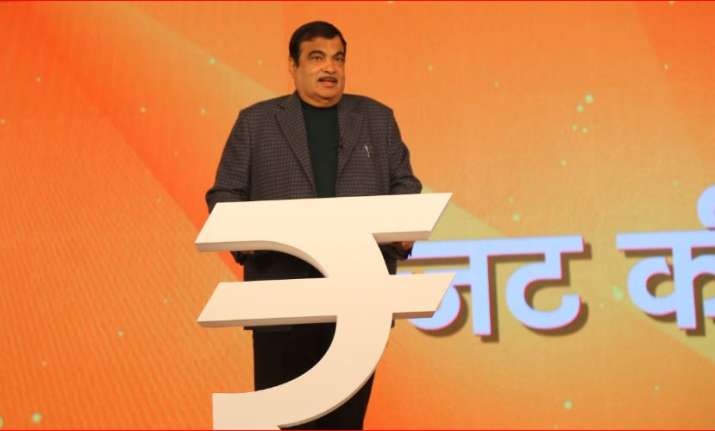 Union Minister for Road Transport, Shipping and Water Resources Nitin Gadkari said today that roads built by the Centre during NDA government's tenure will not have potholes for the next three generations. 
Replying to questions from Rajat Sharma at the daylong India TV Budget Conclave here, Gadkari promised to clean up the river Ganga by 80 per cent by March 2019. 
Outlining the government's major thrust on agriculture, Gadkari said: "I hail from a place (Vidarbha) where more than 10,000 farmers have committed suicide. When I became a minister, I felt that our voice was not being heard in Delhi. But now I can say, for the first time since Independence, this is the first budget presented by Arun Jaitley under the leadership of Modi Ji, which can be rightfully described as an agricultural budget."
On Congress president Rahul Gandhi's tweet that the Modi government had promised better remuneration for farmers four years ago, Gadkari said: "There are some people, who keep their reactions ready in writing, even before the budget is presented. Those unemployed and frustrated because of us, can you expect praises from them?"
Asked about government's promise to give minimum support price for kharif crops at one and a half times the actual costs, Gadkari said: "Prices of crops are not decided in India, it is affected by the international market. Brazil decides the international prices of sugarcane, while Argentina decides prices of oil. So in a global economy, it is very difficult to give fixed prices to farmers. The government balances prices through various means. For the first time, we have a Prime Minister who says with confidence that farmers will be given one and a half times their actual costs. Our government will surely protect the farmers."
When it was pointed out that bureaucrats deliberately lower the costs while deciding MSPs, Gadkari replied: "Prices of electricity and fertilizers have declined. We will scientifically arrive at actual costs, and then announce minimum support prices accordingly." 
Gadkari dwelt on the ethanol fuel experiment saying:  "I showed (Bihar chief minister) Nitish Ji vehicles that run on ethanol extracted from paddy husks, that are burnt rampantly in Punjab, Haryana and UP before the onset of monsoon. One tonne of paddy husk can yield 280 litres of ethanol. We will be setting up ethanol industry here, which will give jobs to 40 to 50 lakh youths, and prevent air pollution too. This will also lower petro products import. If we manage to save Rs 2 lakh crore on this account, our economy can change for the better."
On the newly announced National Bamboo Mission, Gadkari said: "Please note my words, we are going to set up an oil refinery in North-east, where bamboos are in abundance. We can produce bio-ethanol out of bamboo. We import wood for making agarbatti sticks and other material, but Northeast has abundance of bamboo, which can yield bio-ethanol and help farmers and our economy."
Gadkari pointed out that for the first time Operation Greens will be launched to protect prices of onion, potato and tomatoes. "Rs 500 crore has been allocated for this, and this will help us in controlling demand and supply."
When it was pointed out that the "India" living in cities is unhappy with the budget, Gadkari replied: " It is incorrect. We are going to remove 50 per cent pollution and 50 per cent traffic congestion in National Capital Region in the next two months. We are working on projects worth Rs 40,000 crore and this will help the people living in NCR."