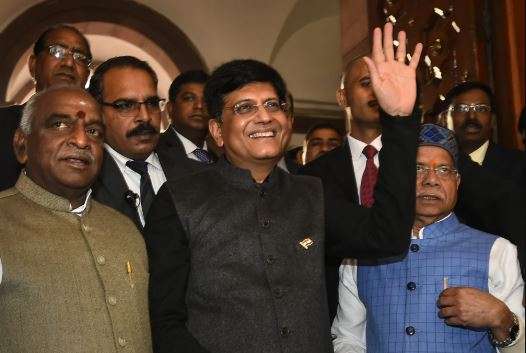 Finance Minister Piyush Goyal, on Friday, presented Interim Budget in Lok Sabha. He presented the Budget amidst a lot of hopes and expectations from across the spectrum of society-right from the common people to industries.
With the Lok Sabha elections 2019 only a few months away, the Interim Budget for 2019, the last financial exercise by Prime Minister Narendra  Modi led Central government, was presented in the Lower House. 
The govt announced major tax benefit for the middle class. It also provided further relief to the farmers. 
[ALSO READ] Union Budget 2019: When and Where to watch live streaming of Piyush Goyal's speech 
Interim Budget 2019-20 HIGHLIGHTS:
WATCH VIDEO:
12:38 pm: Individuals with gross income up to 6.5 lakh rupees will not need to pay any tax if they make investments in provident funds and prescribed equities: FM
12:33 pm: The move will benefit 3 crore people: FM 
12:31 pm: Individual taxpayers having annual income upto 5 lakhs will get full tax rebate: FM
12:30 pm: Building physical and social infrastructure for USD10 trillion economy, says FM outlining 10 yr vision in the Interim Budget speech
12:28 pm: India leading world in mobile data consumption; mobile consumption data has risen by 50 times: FM
12:27 pm: The fiscal deficit as a proportion of GDP- 3.4% for the coming year, as there is a need to provide for income support for farmers: FM
12:25 pm: We are poised to become a 5 trillion dollar economy in the next 5 years and we aspire to become a 10 trillion dollar economy in the next 8 years: FM 
12:24 pm: 18% increase in direct tax collections in 2017-18, 1.06 crore people included in the tax base. Also, more than 1 crore people filed IT returns for the first time, after demonetization: FM
12:15 pm: GST collections in January 2019 has crossed Rs 1 lakh crore: Piyush Goyal
12:12 pm: The Group of Ministers is examining how prospective house buyers can benefit under Goods & Services Tax (GST): FM
12:10 pm: GST has been continuously reduced resulting in relief of Rs 80,000 crore rupees to the consumers;  Most items of daily use are now in the 0%-5% tax bracket: FM
12:09 pm: GST is probably the biggest taxation reform implemented since Independence; with tax consolidation, India became one common market; inter-state movements became faster through e-way bills, improving Ease of Doing Business: FM
12:07 pm: Direct tax collections increased from Rs 6.38 lakh crore in 2013-14 to almost Rs 12 lakh crore; The tax base is up from Rs 3.79 crore to 6.85 crore: FM 
12:04 pm: Within nearly two years, almost all assessment and verification of IT returns will be done electronically by an anonymized tax system without any intervention by officials: FM
12:03 pm: A single window clearance for filmmaking to be made available to filmmakers, anti-camcording provision to also to be introduced to Cinematography Act to fight piracy: FM
12:01 pm: Allocation for the north eastern region has been proposed to be increased to Rs 58,166 crore in this year, it will be a 21% rise over the previous year: FM
11:57 am: Today there is not a single unmanned railway crossing on the broad gauge in India: FM
11:54 am: The defence budget has enhanced beyond Rs 3 lakh crore: FM 
11:52 am: We have already disbursed Rs 35,000 crore for our soldiers under 'One Rank One Pension', substantial hike in military service pay has been announced: FM
11:50 am: Our soldiers are our pride and honour; 'One Rank One Pension', which was pending for the last 40 years, has been implemented by us: FM
11:45 am: To ensure cleaner fuel and health assurance, we embarked upon Pradhan Mantri Ujjwala Yojana, a programme to give 8 crore free LPG connections to rural households, 6 crore connections have been given already: FM
11:42 am: Govt spent Rs 1.7 lakh crore to supply food grains at cheaper price to poor in 2018-19 as against Rs 92,000 crore in 2013-14: FM
11:42 am: Allocation to MNREGA hiked to Rs 60,000 crore for 2019-20: FM
11:41 am: A pension scheme is being launched called Pradhan Mantri Shram Yogi Mandhan, to provide assured monthly pension of 3000 rupees per month, with the contribution of 100 rupees per month, for workers in unorganized sector after 60 years of age: FM 
11:39 am: Instead of rescheduling of crop loans, the farmers severely affected by natural calamities will get 2% interest subvention and additional 3% interest subvention upon timely repayment: FM
11:38 am: Govt has provided 10 per cent reservation for economically weaker section, job quota to provide 2 lakh seats in educational institutions: FM
11:37 am: About 5.4 lakh villages made open defecation-free: FM Piyush Goyal
11:33 am: This initiative will benefit 12 crore small and marginal farmers, at an estimated cost of Rs. 75,000 crore; FM
11:32 am: Under the Pradhan Mantri Kisan Samman Nidhi, 6000 rupees per year for each farmer,  in three instalments, to be transferred directly to farmers' bank accounts, for farmers with less than 2 hectares landholding: FM
11:30 am: To provide assured income support for small and marginal farmers, Pradhan Mantri Kisan Samman Nidhi scheme has been approved: FM
11:30 am: For the welfare of farmers and for doubling their income, historic decision was taken to increase MSP by 1.5 times the production cost for all 22 crops: Piyush Goyal
11:28 am: Ayushman Bharat the world's largest healthcare programme was launched to provide medical care to almost 50 crore people, resulting in 3,000 crore savings by poor families: Piyush Goyal
11:21 am: Efforts have been initiated to bring full representation for economically weak backward classes, by giving them reservation in jobs and education: Piyush Goyal
11:20 am: As a tribute to Mahatma Gandhi, world's largest behavioural change movement Swachh Bharat initiated; more than 98% rural sanitation coverage has been achieved; more than 5.45 lakh villages declared ODF: Piyush Goyal
11:18 am: Almost 3 lakh crore has already been recovered in favour of banks and creditors, big defaulters have also not been spared by our government: Piyush Goyal
11:14 am: Current account deficit is expected to be 2.5% this year: Piyush Goyal
11:12 am: Inflation in December 2018 was 2.1%. Fiscal deficit has been brought down to 3.4% in the revised estimate of 2018-19: Piyush Goyal
11:11 am: Inflation is a hidden and unfair tax; from 10.1% during 2009-14, we have broken the back of back-breaking inflation: Piyush Goyal
11:08 am: I can confidently say, India is solidly back on track and marching towards growth and prosperity: Piyush Goyal
11:06 am: India will be free of corruption: Piyush Goyal
11:03 am: Finance Minister Piyush Goyal presents Budget in Parliament
WATCH VIDEO: Piyush Goyal Presents Union Budget 2019 (Full Part 1)

10:55 am: Since morning, Govt sources have been sending budget pointers to media houses, now if these pointers are there in FM's speech then it tantamounts to a leak. It would be a serious issue of breach of secrecy: Manish Tewari, Congress 
10:40 am:

Delhi: Telugu Desam Party (TDP) MPs dress in black to protest against the central government ahead of the presentation of the interim #Budget2019. They are protesting in Parliament premises demanding special category status for Andhra Pradesh. pic.twitter.com/ANy29nazko

— ANI (@ANI) February 1, 2019
10:31 am: They'll try to introduce populist schemes in the Budget keeping an eye on Lok Sabha polls. Budgets they've presented so far haven't really benefitted general public. Only 'Jumlas' will come out today. They've only 4 months when will they implement the schemes?: Mallikarjun Kharge
10:30 am: Union Ministers Sushma Swaraj, Rajnath Singh, and Ravi Shankar Prasad arrive at Parliament. Following the Cabinet meeting, Piyush Goyal will present the interim Budget 2019-20 at 11 am
10:28 am: Cabinet meeting underway in Parliament 
10:22 am: Union Minister of Agriculture and Farmers' Welfare Minister Radha Mohan Singh: The last five budgets have been dedicated to the farmers, the government's sixth budget will also be for the farmers, it will empower them
10:17 am: Union Budget 2019​: Sensex up by 151.44 points, currently at 36,408.13
10:13 am: Manoj Sinha, Minister of State for Railways: The way the government has increased the investment in railways, from installing CCTV cameras to WiFi, I believe further investment in railways will certainly be increased
09:56 am: Finance Minister Piyush Goyal arrives at the Parliament with the #Budget briefcase. Following the Cabinet meeting, he will present the interim Budget 2019-20 at 11 am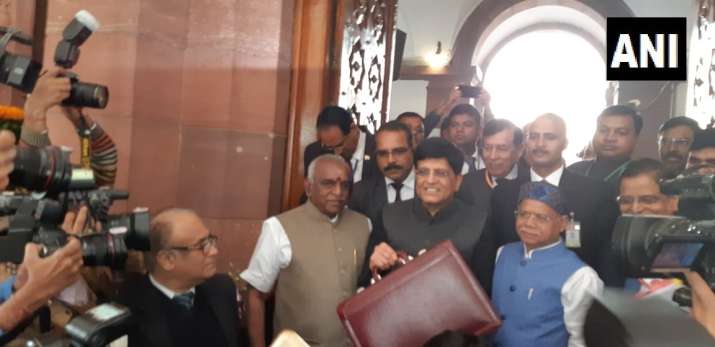 09:49 am:

As per tradition, Finance Minister @PiyushGoyal calls on #PresidentKovind at Rashtrapati Bhavan before presenting the Union Budget pic.twitter.com/yZfFL8uVKs

— President of India (@rashtrapatibhvn) February 1, 2019
09:32 am:

Delhi: The printed copies of #Budget 2019-20 being security checked by sniffer dog pic.twitter.com/McqnCegoQ6

— ANI (@ANI) February 1, 2019
09:22 am: Union Minister of Parliamentary Affairs Narendra Singh Tomar: 'Sabka Saath, Sabka Vikas' has been our government's mantra and it will reflect in the Budget
09:00 am:

#Delhi: Copies of #Budget2019 brought to Parliament complex; Piyush Goyal to present interim Budget 2019-20. pic.twitter.com/oF3MgBmsdK

— ANI (@ANI) February 1, 2019
08:42 am: Piyush Goyal​ reaches office 
08:28 am: Like every time, this time too govt will present a good Budget: Shiv Pratap Shukla

Shiv Pratap Shukla, MoS (Finance): Modi government is a popular govt, it's natural that we will take care of everything. We will do whatever is possible for the people. We have always presented a good budget. pic.twitter.com/ea8WGiewiw

— ANI (@ANI) February 1, 2019
08:00 am: Piyush Goyal to present Interim Budget today
Interim or general Budget
[ALSO READ] Union Budget 2019: What is Interim Budget? Why it is different from full-fledged budget: All you need to know
Confusion was created after the commerce ministry on Wednesday in a whatsapp message to media said: "do not refer Budget 2019-20 as interim Budget, it is officially referred as general Budget 2019-20".
However, the Finance Ministry later clarified that the Budget will be called Interim Budget 2019-20.
There were confusion in political circle that the government may deviate from the practice of presenting Interim Budget and come up with full Budget ahead of the general elections.
To this principal opposition party Congress had said it will strongly oppose both inside and outside Parliament the presentation of a "full budget" by the BJP-led NDA government as it has "no electoral legitimacy" and the step will go against set precedents and Parliamentary traditions.
Last week, Railway Minister Piyush Goyal was given additional charge of the Finance Ministry as Arun Jaitley has gone to the US for treatment. Jaitley as the Finance Minister has presented five Budgets.
As per practice, a Vote-on-Account or approval for essential government spending for a limited period is taken in an election year and a full-fledged budget presented by the new government.
While P Chidambaram had presented the previous UPA government's Vote-on-Account in February 2014, Jaitley presented a full budget in July that year. Narendra Modi-led government scrapped a colonial-era tradition of presenting the Budget at the end of February.
Who prepares Union budget?
[ALSO READ] Union Budget 2019: Must know terminologies
Government of India prepares the Budget. To be precise, after consultations with all the other ministries with respect to their funding requirements, it is prepared by Ministry of Finance. On the Budget Day, Union Budget is presented in Lok Sabha by the Finance Minister.
Fitch Ratings warns of fiscal slippage if government goes for populist interim budget
Ahead of BJP-led NDA government presenting the final budget of its tenure, Fitch Ratings on Thursday warned of a second consecutive year of fiscal slippage in the event of Finance Minister Piyush Goyal resorting to populist spending to win over lost vote base.
The interim budget to be presented on Friday could give some indication of the government's commitment to fiscal consolidation, which is one of the main sensitivities in the sovereign ratings, Fitch said.
"Pressure for new expenditure to attract votes, particularly among rural and small-business owner voters, has increased as polls have shown the ruling Bharatiya Janata Party (BJP) is becoming less assured of victory in the general elections.
"The BJP has reportedly lost votes in some recent state elections due to rural distress and public concerns over job creation. Targeted cash programmes appear the most likely form of support, as they would avoid downside risks of alternatives, such as the farm loan waivers that undermined the loan repayment culture in the past," it said.
Populist spending, it said, would aggravate fiscal pressures, which are already building due to revenue shortfalls.
"Higher pre-election spending could risk a second consecutive year of fiscal slippage relative to the government's targets and would further delay plans to reduce the high general government fiscal deficit and debt burden," it said.
Fitch said longer-term trends are more important to the sovereign rating profile.
"We believe the central government may still be able to meet its fiscal deficit target of 3.3 per cent of GDP for FY19, which would help support its fiscal credibility, although this may be achieved by deferring capital expenditure and postponing bill payments until after March," it said.
The final budget for the fiscal year ending in March 2020 (FY20) will be presented soon after the next government takes office following general elections, which are due by May 2019.
Revenue from the new GST is well below target, Fitch said citing it as a reason for revenue falling short of the target so far in the current fiscal year that ends on March 31, 2019.
"Officially, the government still aims to adhere to a debt ceiling of 60 per cent of GDP by March 2025, as adopted under the Fiscal Responsibility and Budget Management Act. However, this would require significant and politically difficult fiscal consolidation. The newly elected government's final budget, likely to be presented around July, should provide more meaningful guidance on the medium-term fiscal outlook," it said.
Fitch's base-case scenario is that general government debt will remain close to 70 per cent of GDP in the next few years and will constrain India's sovereign rating (BBB-/Stable).
Indian budgets normally offer guidance on plans for structural reforms and tax changes.
"The current government could choose in its interim budget to signal the reform direction it would adopt in a possible second term, but we believe it is more likely to include such plans in the final budget...," it said.
The government's reform efforts have led to a strong improvement in the World Bank's Ease of Doing Business ranking in recent years, but FDI inflows have remained roughly stable as a percentage of GDP over the past five years, as there are lingering difficulties, such as in enforcing contracts and the functioning of the labour market.
WATCH VIDEO:

(With inputs from agencies)