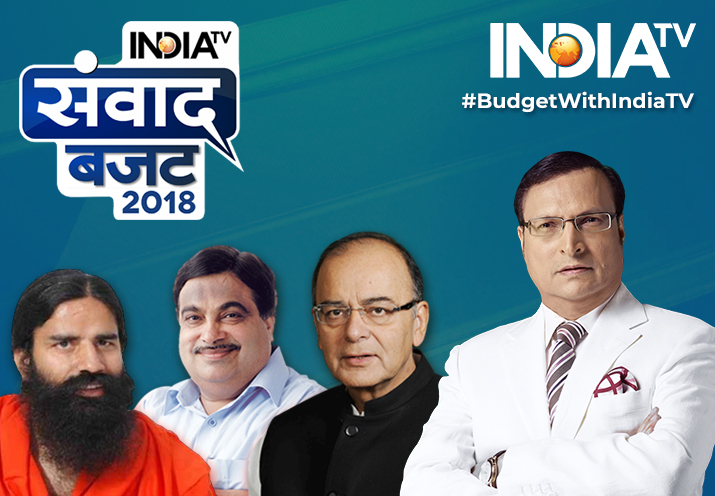 The Modi government unveiled the Union Budget 2018-19 on Thursday. Finance Minister Arun Jaitley did not disappoint as most of it was along the expected lines. 
Jaitley announced a slew of measures for the agriculture and rural sectors, a new health insurance scheme for the poor and some relief for the salaried class and senior citizens. 
India TV, the country's leading Hindi news channel, is hosting "Budget Conclave 2018" – a day-long event where leaders from the ruling BJP government and the Opposition will express their views and concerns on the Union Budget 2018-19. 
Leaders of the ruling party will elucidate the benefits extended by the budget to the nation and the future plans on how to make the promises made by the finance minister a reality. 
Meanwhile, the Opposition leaders will come up with their concerns on the budget and question the government on several announcements made in Jaitley's budget speech. 
The top-line political leaders likely to attend the India TV's "Budget Conclave 2018" include Finance Minister Arun Jaitley, Civil Aviation Minister Jayant Sinha, Railway Minister Piyush Goyal, Transport Minister Nitin Gadkari, HRD minister Prakash Javadekar, BJP chief spokesperson Sambit Patra and yoga guru Baba Ramdev. 
Others likely to be present in the event include Congress leaders Ajay Makan and Pramod Tiwari, BJP MP and spokesperson Meenakshi Lekhi, Minister of State for Health and Family Welfare Anupriya Patel, JDU chief spokesperson KC Tyagi and many others. 
Questions – which matter to the common man – will be discussed, debated and analysed by political experts in India TV's Budget Conclave on February 2.
The programme will be telecast live on India TV throughout the day on Friday.
Do not miss India TV Samvad Budget 2018 daylong conclave tomorrow Feb 2 from 10 am onwards on @indiatvnews.com #BudgetWithIndiaTV pic.twitter.com/vffuMXFq7m

— Rajat Sharma (@RajatSharmaLive) February 1, 2018