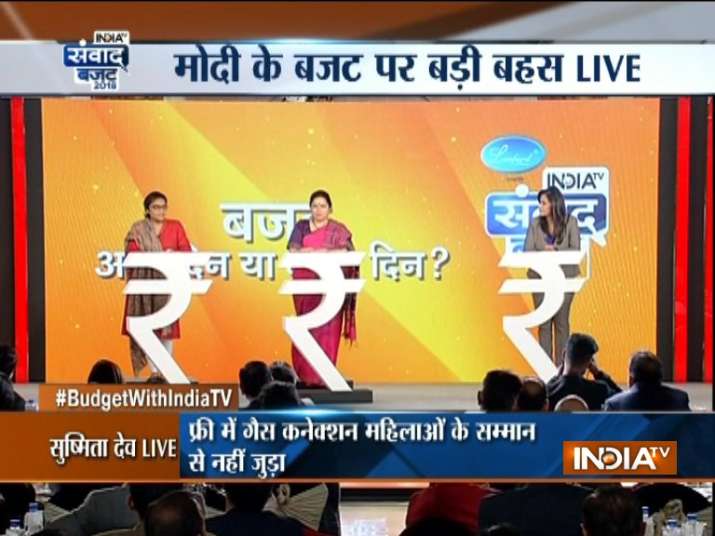 BJP spokesperson and MP Meenakshi Lekhi on Friday said that with Union Budget 2018-19, Modi government has brought focus on 'ease of living' with schemes like Ujjwala Yojna and Swachh Bharat Mission. 
Sharing dais with Congress'Sushmita Dev, Lekhi claimed that PM Modi's flagship scheme Ujjwala Yojna has made life easier for crores of household women in India by bringing gas cylinders in their kitchens. 
Congress leader Sushmita Dev rebutted the claim arguing that Ujjwala scheme does not give gas cylinders for free, instead, it sets up a 12 part EMIs, which no one talks about. Besides, she said, the dignity of women must not be linked with kitchen. 
Follow live updates on India TV Samvaad on Budget 2018-19
"It is disappointing to see that dignity of women is associated with the kitchen. After Beti Bachao, Beti Padhao, it is time for Beti ko Sansad Mein Lao," Dev quipped. 
Debating on the impact of Budget 2018-19 on women during India TV Budget Samvaad, the Congress leader questioned the GST on sanitary napkins to which BJP leader said that the tax aides facilitation of eco-friendly pads to poorer women of the nation. 
"India's 80 per cent women are not able to afford sanitary napkin, something that government has to start working on. However, I did not sign on a petition to GST on sanitary napkins as women who can afford them are helping build a safer version for poorer women," Meenakshi Lekhi said. 
Also read | Baba Ramdev on India TV Budget Samvaad: 'Middle class not happy with budget, there should be no tax on income up to Rs 5 lakh'
The BJP leader also raised concerns on the plastic polymer material used in sanitary pads, which are a hazard for the environment and are imported from China. 
Highlighting the link between people-centric schemes in Budget 2018, Lekhi said that steps taken by the govt to improve that situation has to be commended. "Modi ji brought those plans into actions, which is why people respect him as the Prime Minister of the country," she said. 
However, the Congress leader questioned the implementation of the possible implementation of some of the schemes introduced in Jaitley's budget, "Covering 10 crore families on medical grounds will take up 60 per cent of the budget. If Jaitley ji can bring a resolution to this, it is welcomed."
Also read | Nitin Gadkari on India TV Budget Samvaad: Modi Govt presented first 'Agriculture budget'