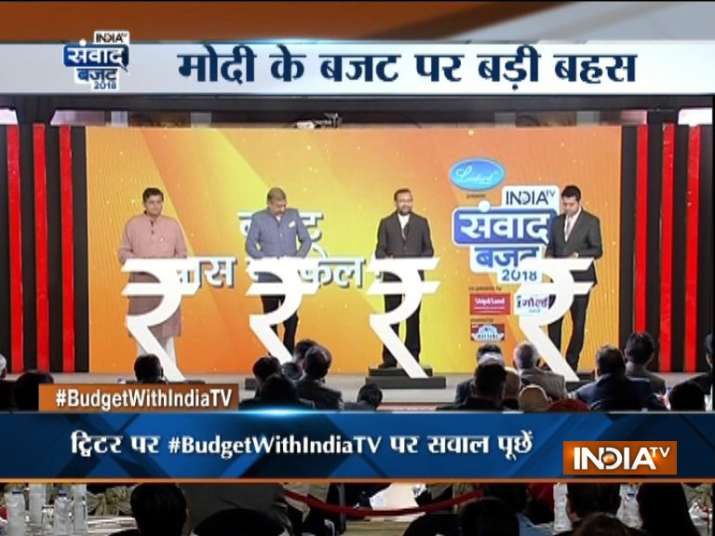 Union Human Resources Development Minister Prakash Javadekar on Friday heaped praises on the Union Budget 2018-19, saying that the Modi government did justice to country's farmers, which the erstwhile UPA government failed to do. 
Sharing the dias with Congress leader Pramod Tiwari and Odish leader Jay Panda at India TV's "Budget Conclave 2018", Javadekar lauded the announcements made by Finance Minister Arun Jaitley in his budget speech yesterday. 
"People were troubled because of the huge medical bills and this will be sorted out now. Benefits announced by Jaitley ji for health and medical sector is going to change the face of India," he said. 
"Education sector is developing under the Modi government today and the students of our country will benefit from this," he added. 
Countering his claims, Congress leader Pramod Tiwari said that the budget has showed that it will be the last of the Modi government. He also said, "Prakash Javadekar ji would have totally gone against the budget if he was in the opposition". 
Taking a jibe at Jaitley and the budget announced yesterday, Pramod Tiwari said, "At one point of time I felt that Jaitley ji read the manifesto instead of the budget yesterday". 
He also targeted the Modi government over the Swaminathan Commission, saying that the BJP had denied implementing it in February 2015, then why has it agreed to do so now. 
Defending the government and the budget, Javadekar said that announcements made in the budget are aimed at welfare of weaker sections.
Heaping praises on Narendra Modi, Javadekar also said, "Rajiv Gandhi said poor gets Rs 15 from the Rs 100 that I send. Now poor gets full Rs 100 that Modi ji sends".
Questioned about the rising fuel prices by Tiwari, Javadekar said, "Now that international crude oil prices have gone up, we have reduced excise duty".
Targeting the Modi government over Goods and Services Tax, Pramod Tiwari said that the Centre backtracked on GSt, as it had to make five amendments in the last six months. 
"We stood in long lines outside the ATMs, job opportunities have reduced, there are many other problems as well that need attention," said Pramod Tiwari. 
"We recall the long speeches given by the BJP during 2014 and we still await the fulfillment of those promises," he added. 
Criticising the government's agenda over Aadhaar, Tiwari said that it should be considered as an identification and should not be forced on people. 
"I am reading incidences on a daily basis, wherein people are being turned away for the basic rights because of Aadhaar," he said.