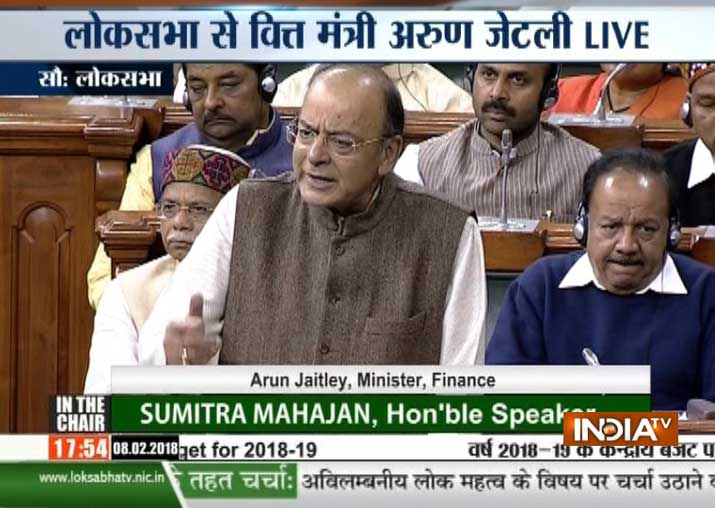 Finance Minister Arun Jaitley today said that conceding to Rahul Gandhi's demand for disclosing the details of the Rafale deal would amount to compromising with the national security.
Speaking on the floor of the Lok Sabha during general discussion on the Union Budget 2018-19, he referred to past instances when the UPA Ministers had refused to put in public the details of defence deals.
Jaitley noted that disclosing the costing of a defence deal will let our enemies know the capacity of weapons.
India and France signed the inter-government agreement for buying 36 Rafale fighters, off the shelf, on September 23, 2016, following long negotiations on the deal, agreed upon during Prime Minister Narendra Modi's visit to France in April 2015.
Highlights: 
# Lok Sabha adjourned till tomorrow 
6:05 pm: Will work out a solution to problem of Andhra Pradesh in next couple of days: Jaitley
# Arun Jaitley accuses Rahul Gandhi of compromising with national security.
# Disclosing the costing of a defence deal will let our enemies know the capacity of weapons: Arun Jaitley 
6 pm: It is in large interest of India's security that details are not disclosed. Security pacts are an inherent part of defence transactions. When you are giving out the details, you are giving out the details of the weapon system that you possess and capacity of weapon system: Arun Jaitley on Congress' allegation over Rafale deal 
# Inflation rate was above 11 per cent during UPA regime: FM Jaitley 
# India to become fastest growing major economy in the world in two years: Finance Minister Arun Jaitley says quoting IMF data
# Arun Jaitley rules out one rate under GST regime. "Not possible to introduce single GST rate in India."
# Within a matter of months, we have been able to stabilise GST; we reduced rate with increase in revenue: FM 
5:50 pm: I went to Singapore. There they levy 7% GST on both Mercedes and food. Can this be done in India, a country where a large population lives below the poverty line? How can same tax slab be implemented on a luxurious item & a necessity?: Arun Jaitley
# Structural reform may pose momentary difficulty initially but in the long run it will prove to be beneficial: Jaitley
5:40 pm: The narratives which we had inherited & the narrative which we have now is entirely different. Nobody at that time mentioned that India is the fastest growing economy. It has only happened now. Data speaks for itself: FM Arun Jaitley
The Budget 2018-19 was presented in the Parliament on February 1. This was the last full budget of the ruling BJP-led NDA government before 2019 Lok Sabha polls.