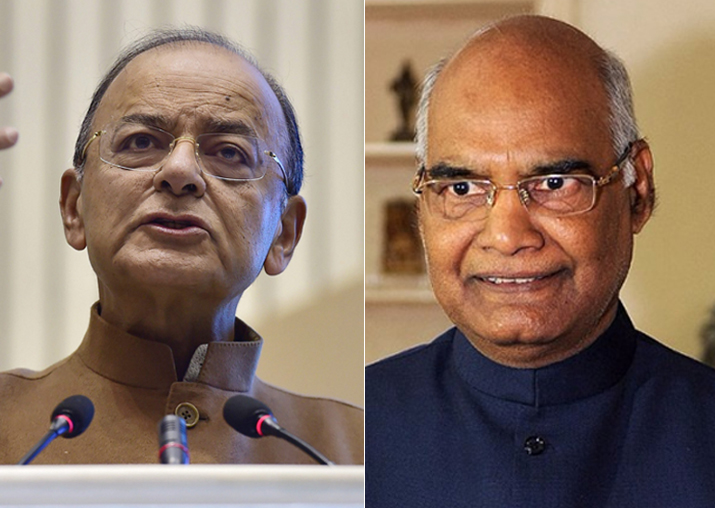 With the crucial Budget session of the Parliament beginning today, important bills like those of the Muslim Women (Protection of Rights on Marriage) Bill, 2017 related to triple talaq, the Codes of Wages Bill, 2017 and Rights of Children to Free and Compulsory Education, 2017 are set to be tabled for discussion and passage. 
As many as 28 bills will be tabled in the Lok Sabha, while 39 bills are listed for the Rajya Sabha for the upcoming session. 
The first leg of the session will be between January 29 and February 9 during which the government will present the economic survey on January 29, followed by the Union Budget on February 1. 
Following a recess after February 9, Parliament will meet again from March 5 to April 6.
As it happened on Monday:
02:18 pm: GST Council is akin to a 'technology of reform', the principle needs to be applied for reform in many other areas: CEA Subramanian
02:17 pm:  As India emerges as one of world's largest economies, it needs to gradually move from being a net consumer of knowledge to becoming a net producer: Chief Economic Adviser Arvind Subramanian 
02:09 pm: We are still very far from the global human capital frontier - food for reflection: CEA Arvind Subramanian
02:08 pm: Policy agenda for the year ahead-support agriculture, stabalise GST, complete TBS actions with reforms, privatise Air-India and head-off macro economic pressures and possibility of a 'sudden stall' from rising oil prices and sharp correction in stock prices:Chief Economic Adviser
02:07 pm: Much more important to reignite investment than it is to raise savings: CEA Subramanian
02:06 pm:  Pink is the colour of Economic Survey document, which highlights gender issues against the backdrop of development: CEA Subramanian
02:04 pm: Robust revival going on, temporary effects of demonetization & GST have dissipated, growth rate for next year will be between 7 to 7.5 %
02:03 pm: Government does not have to do anything radical; just finishing what it has started already would be a very ambitious and fantastic agenda to complete: Arvind Subramanian, Chief Economic Adviser
02:01 pm: This year oil prices went up that affected consumption and govt finances and also held back real economic activity: CEA
02:00 pm:  We think of the twin balance sheet challenges having 4 'R's - Recognition, Resolution, Recapitalisation and Reforms. I think now we are well ahead on all of them: Arvind Subramanian
​01:59 pm:  From the very 1st survey onwards we've spoken about the twin balance sheet challenges, under capitalised banks which held back growth for a very long time. This year a series of very important steps are being taken: Arvind Subramanian
01:59 pm: 
LIVE: In a nutshell, the macroeconomic story is one of a duality of revival and risks: CEA @arvindsubraman https://t.co/VlxLfGeIF4 #EconomicSurvey2018 pic.twitter.com/EqiodwD3NP

— PIB India (@PIB_India) January 29, 2018
01:58 pm:  Exports driving growth, temporary factors receding: CEA Subramanian
01:55 pm:  The economy is picking up quite nicely and robustly: CEA Subramanian
01:52 pm:  Major achievements this year gone are the launch of Goods & Services Tax, decisive tackling of Twin Balance Sheet challenge and validation of achievements and recognition of medium term prospects: Chief Economic Adviser Dr Arvind Subramanian
01:48 pm: 
Volume 1: In-depth analysis and new ideas for policy
Volume 2: review

- CEA @arvindsubraman on #EconomicSurvey2018

LIVE: https://t.co/eK07fyW596 pic.twitter.com/pSJKfbIjxI

— PIB India (@PIB_India) January 29, 2018
01:45 pm:  Chief Economic Advisor Arvind Subramanian addresses press conference on Economic Survey 2017-18.
12:55 pm: Rajya Sabha adjourned till February 1
12:54 pm: Economic Survey says that biggest source of upside potential is the exports sector. 
12:53 pm: "Now, even the IT sector is confronting governance challenges, as its model of providing low-cost programming for foreign clients comes under threat from rapid technological change. So, one might say that India had moved from 'crony socialism to stigmatized capitalism'," Economic Survey says. 
12:49 pm: Post-demonetization and GST, increase in new tax filers (over and above natural increase) of about 1.8 million and some boost to individual income tax collections: Economic Survey
12:48 pm: India's stock market boom different from U.S.: better profit expectations, large portfolio allocation away from gold and real estate into stocks & higher interest rates; warrants heightened vigilance
12:47 pm: New facts on the Indian Economy: Clothing incentive package boosted exports of readymade garments, Indian parents continue to have children until they get desired number of sons, Substantial avoidable litigation in tax arena which govt action could reduce.
12:46 pm: Economic Survey says there is need to address pendency, delays and backlogs in the appellate and judicial arenas. 
12:43 pm:  Lok Sabha adjourned for the day; to meet on February 1
12:33 pm: A series of major reforms undertaken over the past year will allow real GDP growth to reach 6.75 percent this fiscal and will rise to 7.0 to 7.5 percent in 2018-19
12:28 pm: Economic Survey 2017-18 tabled by Arun Jaitley in Lok Sabha
11:55 am:  President Kovind ends his joint session to the parliament. The Economic Survey will be presented by finance minister Arun Jaitley soon.
11:48 am: Our fight against corruption is continuing. In the past one year, registration of about 350,000 suspicious companies have been cancelled: President Ram Nath Kovind
11:47 am:  A sustained debate is required on the subject of simultaneous elections and all political parties need to arrive at a consensus on this issue: President Kovind
11:46 am:  With the help of  GeM portal, even the smallest of entrepreneurs are now  capable of selling their products to Government: President Kovind
11:45 am: To bring transparency in government procurement and to provide opportunity to maximum number of entrepreneurs, a new system - Government E-market place has been created by the name of GeM: President Kovind
11:44 am: I appreciate the soldiers and offer condolences to those who lost their lives in action. J&K Police, defence and paramilitary forces are working together to fight terrorism in J&K: President Ram Nath Kovind
11:43 am:  Service to humanity is an integral part of India's cultural heritage. Because of these values, India has always remained the First Responder in times of crises, such as the earthquake in Nepal, flood calamity in Sri Lanka and drinking water crisis in Maldives.: President Kovind
11:40 am: After Independence while only 76 Airports were connected to Commercial flights, under 'Udaan' 56 Airports and 31 Helipads are being connected to commercial flights within 15 months only: President Ram Nath Kovind
11:37 am: Over Rs 57,000 crore prevented from going into wrong hands due to digital payment: President
11:31 am: 'Aadhar' has helped in securing the rights of the poor by eliminating middlemen. At present, Digital Payments are being carried out in more than 400 schemes of the Government: President Kovind 
11:29 am: Our nation is the youngest nation. My govt started Start Up India, Stand Up India, Skill India and Pradhanmantri Mudra Yojana to help the youth of the country to realise their dreams & make them self employed: President Kovind 
11:27 am: Kumbh Mela was included in the list of 'Intangible Cultural Heritage of Humanity'. Last year, UNESCO accorded Ahmedabad the status of India's first 'Heritage City'. Chennai, on account of its glorious tradition of music, has been included in the list of Creative Cities by UNESCO: President Kovind
11:25 am:  My Government has increased the minimum wage of workers by more than 40 per cent. The number of registers for compliance of Labour laws has also been reduced from 56 to 5. All returns are now filed online on the Shram Suvidha Portal: President Kovind
11:24 am: Education provides the foundation for building the future of the Nation. My Government is committed to strengthening and modernising School and Higher Education system in the country: President Kovind
11:24 am: My Government has approved over 2400 'Atal Tinkering Labs' under 'Atal Innovation Mission', in order to inculcate a spirit of entrepreneurship and creativity in children at an early age: President Kovind
11:23 am: Under the 'Deendayal Amrut Yojana', over 5200 lifesaving branded medicines and surgical implants are being provided through 111 outlets at discounts ranging from 60% to 90%: President Kovind
11:22 am:  To bring everyone closer to development, work under 'Pradhanmantri Gram Sadak Yojana' is being done speedily. In 2014 only 56% villages were connected to roads, today more than 82% villages have road connectivity with the majority being in remote areas: President Kovind
11:21 am: One of the major worries of the poor and middle class relates to treatment of diseases. The financial burden of treatment of disease further aggravates the suffering: President Kovind
11:21 am: New 'National Health Policy' has been formulated by my Government for providing better & affordable healthcare facilities to the poor & middle class. In addition, under the 'National AYUSH Mission', traditional methods of treatment, such as, Yoga and Ayurveda are being promoted.
11:20 am: The poor to get home loan at 6 per cent less interest rate: President Kovind
11:19 am:  Committed to "Empowerment and not Appeasement", my Government is making intensive efforts for economic, social and educational empowerment of the minorities: President Kovind
11:18 am: Keeping in mind these difficulties, my Government has excluded bamboo from the category of tree. This has now provided freedom to cut, transport and use bamboo: President Kovind
11:18 am: Lives of lakhs of people in tribal areas especially in the North East region are dependent on bamboo industry. Inclusion of bamboo in the category of tree had adversely affected livelihoods associated with it: President Kovind
11:17 am: As compared to 2014 when only 56 per cent of the villages had road connectivity, now more than 82 per cent villages mostly in far flung and inaccessible areas have been connected by roads. Our target is to provide road connectivity to every village  by 2019: President Kovind 
11:16 am:  The government is committed to double the income of farmers by the year 2022: President Ram Nath Kovind
11:15 am: About 2 lakh 70 thousand Common Service Centres have been set up that provide digital services at low cost, even in the remotest areas of the country: President Kovind
11:14 am: My Government has introduced  insurance schemes for poor at a premium of 1 rupee per month and 90 paise per day. Over 18 crore poor have been covered under the 'PM Suraksha Bima Yojana' and 'PM Jeevan Jyoti Bima Yojana' and about Rs. 2 thousand crore has been paid out as claims.
11:13 am:  Under 'Pradhan Mantri Fasal Bima Yojana', farmers are being provided affordable and simple crop insurance services.  During 2017, under Rabi & Kharif crops, 5 crore 71 lakh farmers were provided protective coverage under this scheme: President Kovind
11:12 am:  Parliament approved a bill granting working woman paid maternity leave of 26 weeks: President Ram Nath Kovind
11:12 am:  To enhance the income of farmers, an ambitious scheme has been introduced in the Dairy sector under which a 'Dairy Processing Infrastructure Development Fund' with a corpus of Rs. 11 thousand crore is being set up: President Kovind
11:11 am: It is our duty that when we celebrate Mahatma Gandhi's 150th birth anniversary in 2019 we pay tribute to him by making our country completely clean: President Kovind
11:10 am: As a result of Government's policies and the hardwork of farmers, a record production of more than 275 million tonnes of food grain and about 300 million tonnes of horticultural produce has been achieved in the country: President Kovind
11:10 am: 10 crore loans have been given under the Mudra Yojana: President Kovind
11:10 am: To make bank credit accessible to the poor and middle class and to encourage self-employment, my Government has facilitated provision of credit without insisting on bank guarantee: President of India Kovind
11:09 am: 2018 ka saal naye Bharat ke sapne ko saakaar karne ke liye: President Ram Nath Kovind
11:09 am: Guided by this fundamental spirit of the Constitution and committed to the welfare of weaker sections, my Government is working towards strengthening social justice and economic democracy and to usher ease of living for the common man: President of India Kovind
11:08 am:  The architect of our Constitution, Dr. Ambedkar used to say that political democracy cannot survive without social and economic democracy: President of India Kovind
11:07 am:  Baba Saheb Ambedkar used to say that without economic and social democracy, political democracy is unstable: President Kovind
11:05 am: The government has proposed a Bill on Triple Talaq. I hope, the Parliament will pass the bill for the good of Muslim women: President Ram Nath Kovind. 
11:03 am: President Ram Nath Kovind is addressing the Lok Sabha and Rajya Sabha jointly, thereby commencing the Budget Session. 
10:59 am: 
Delhi: President Ram Nath Kovind arrives at the Parliament. He will be addressing both the Houses at the commencement of #BudgetSession pic.twitter.com/u0NRklFQ9n

— ANI (@ANI) January 29, 2018
10:49 am: 
President Ram Nath Kovind leaves for Parliament. He will address the Joint Sitting of both Houses of Parliament shortly. #BudgetSession pic.twitter.com/X5Q6XbGXMC

— ANI (@ANI) January 29, 2018
10:48 am: There are discrepancies. Bills tabled at last moment. This reduces democracy of Parliament. We told them why do you call for such short sessions? Ruling Party is taking things lightly. Bills are being passed just like that: Mallikarjun Kharge on All Party Meeting 
10:47 am: Shashi Tharoor says it will be Modi govt's last Budget, exudes confidence in Rahul Gandhi's leadership 
10:46 am: We should make use of our system of parliamentary committees and discuss aspects of the Budget. We should think about the well-being of rural India, farmers, Dalits, tribal communities and labourers: PM Modi
10:45 am:  This Budget Session is important. The world is optimistic about India. Agencies like World Bank & IMF have been giving an optimistic opinion of the country: PM Modi
10:43 am: I request all political parties to make Triple Talaq Bill pass in this Budget session of the Parliament: PM Narendra Modi 
10:40 am:  Ahead of the commencement of Budget Session, PM Modi said that the upcoming Union Budget will fullfil every citizen's dreams
Delhi: Prime Minister Narendra Modi arrives at Parliament for the Budget session. pic.twitter.com/OCpw9ZN44n

— ANI (@ANI) January 29, 2018
09:47 am:  The Budget Session will begin at 11 am with the speech of President Ram Nath Kovind to a joint sitting of the Lok Sabha and Rajya Sabha.
09:46 am: The Economic Survey of India will also be tabled today. The Economic Survey is the ministry's view on the annual economic development of the country. 
09:30 am: The Centre will push for the passage of the triple talaq bill. However, it is likely to face a stiff challenge from the Opposition, which stalled the legislation in the Rajya Sabha in the Winter Session. 
A flagship annual document of the Ministry of Finance, Government of India, Economic Survey reviews the developments in the Indian economy over the previous 12 months, summarises the performance on major development programs, and highlights the policy initiatives of the government and the prospects of the economy in the short to medium term. 
This document is presented to both houses of Parliament during the Budget Session. 
On Sunday, the government reached out to the opposition as it convened a meeting of senior parliamentary leaders of various political parties and sought their cooperation for the smooth functioning of the budget session.
Union Parliamentary Affairs Minister Ananth Kumar told the media that the session is scheduled to have a total of 31 sittings (eight sittings in the first part and 23 in the second) spread over 68 days. The session would conclude on April 6. 
Parliament will be adjourned for recess on February 9 to reassemble on March 5.
Kumar informed that Prime Minister Narendra Modi, addressing the all-party meet, underlined that his government gave "huge importance" to the issues raised by all political parties. 
However, the opposition was perhaps not totally convinced with the government's claims. Although most opposition leaders, including those from the Congress, stayed off the media despite repeated requests for their comments, Trinamool Congress leader Derek O'Brien said that the government cared little for Parliament.
The Modi government will push the triple talaq bill but is likely to face a stiff challenge from the Opposition, which stalled the legislation in the Rajya Sabha in the Winter Session. 
Opposition parties insisted the proposed law be referred to a select committee for scrutiny. After an all-party meeting on Sunday, the government said it will do "everything possible" to ensure the bill's passage in the budget session.