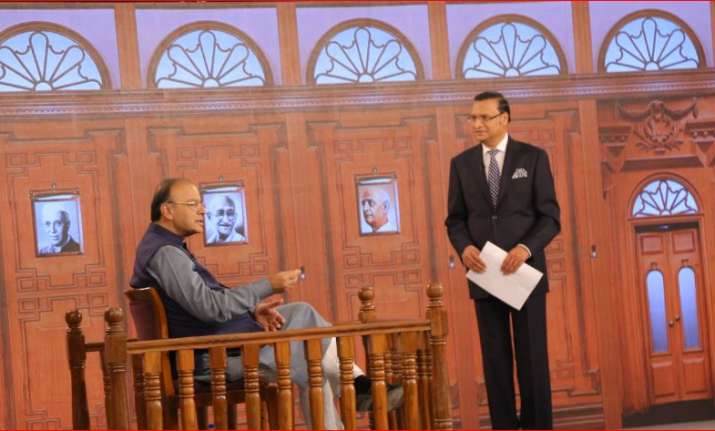 Finance Minister Arun Jaitley has rejected criticisms that the Union Budget has been introduced with an eye on votes of farmers and poorer sections of society. 
Replying to questions from Rajat Sharma in the show Aap Ki Adalat, to be telecast tonight on India TV, Jaitley said: "Sometimes goods economics can be good politics, and it is not necessary that they should be contradictory. Naturally, it is good economic policy, if you provide assistance to those sections of society who need the most. And there can be political results because of that..... There is a difference between popular and populist. Populist means seeking cheap popularity, and popular means the base is strong and accepted by the people."
When it was pointed out that farmers in rural areas of Gujarat did not support his party in the recent assembly polls, and this forced the government to make the budget farmer-oriented, Jaitley replied: "This is not true. Even if I assume that your charge is correct, it is a good thing in a democracy, to work for the people who may have given a message. If the farmers send the message to the political establishment that they should get better remuneration, and the political establishment makes policy in accordance with that, this is what democracy is for, rather than saying, that we got your message, and we do not care. You have to be responsive."
The Finance Minister said that there was "a mechanism in place to decide minimum support prices, it is an institution run professionally. Input costs are decided not on the basis of popularity, but on economic basis. There are agricultural economists and other experts who sit down and decide."
On Dr M. S. Swaminathan commission's report on fixing MSP based on actual costs, Jaitley replied: "Swaminathan had given his report many years ago. There is after all a limit to the economic ability of the government. In the past, crop production used to be less, today there is the problem of plenty. If some crop is produced in abundance, prices fall. Social inequalities are more in the rural areas, and we have to improve the standard of life through farm and non-farm incomes. This in turn will provide more consumers for big corporates. If you have good economics, and the farmers are satisfied, rural demand get a boost, and it helps the economy."
On the question raised by farmers' outfits that actual costs are deliberately shown on the lower side, Jaitley replied: "No democracy can run on the basis of mistrust. If any government indulges in such a thing, its accountability will become bigger. The government is accountable to parliament and there are elections. To say that the figures are fudged is wrong. You can do this once, but you won't get a second time. Cost fixing is a transparent process and the objective is to give better remuneration to farmers."
The Finance Minister said that the new MSPs based one a half times the actual cost will be introduced this year when wheat crops arrive in April. "Wheat crops will arrive in Punjab, Haryana, Madhya Pradesh. There are two states here where there is no election. So naturally, we will have to implement this in these states first."
Jaitley rejected the demand for farm loan waiver saying it was "bad economics". "The Congress party was in power for 55-60 years. They claim they used to give good remunerative prices, but we are doing what they could not do all these years. There has been accumulated backwardness in these areas. He (Rahul Gandhi) should carry out audit of his governments too. If his family members had fulfilled their promises, poverty could have been eradicated 50 years ago."
"Once you waive farm loan, the farmer will be forced to take fresh loan next year. Can our economy run on such policies? You will have to raise farm and non-farm income by promoting fisheries, dairy farming. In our budget we have decided to promote non-farm income from bamboo to milk, to cattle. We will launch Operation Greens where farmers will not have to throw tomato, onion, potatoes because of low prices. They (Congress) did not do this in the last 60 years, and for the first time we have allocated money for that. Government will give support to cold storage system."
Jaitley said that "74 per cent of loans given under MUDRA scheme were to SC, ST and women. This year we have lowered women's contribution to EPF by 4 per cent. We have raised allocation for garment industry from Rs 6,500 cr last year to Rs 7,500 cr this year. This industry employs mostly women."
The Finance Minister said that there has been 40 per cent jump in the number of household toilets. "Prime Minister launched Swachh Bharat toilet scheme on October 2, 2014. At that time, 36 pc households had toilets. Today, 76 pc households have toilets. This is a 40 pc jump in last three and a half years. This year, we are giving money for building 2 crore more toilets. This ultimately helps women empowerment in rural areas. Any state government, whether ours, or of the Left, or Congress, or regional party, district after district are being declared 'open defecation free'."
Jaitley dismissed as incorrect the charge that government has imposed GST on 'langar' (free kitchen) in gurdwaras. "No GST has been imposed. This is only a social media campaign. GST is levied on only products that are sold. Food in gurdwaras are distributed free, so there is no question of levying GST. There is no GST on atta or rice, but if somebody says that I am buying ghee for temple, and there should be no GST. How can we know that you are buying for a temple or for a Haldiram shop?  When gurdwara, mosque, temples were built, cement and other raw materials were used, and excise duty was levied."
The Finance Minister revealed that during the pre-Budget presentation by NITI Aayog on Public Health, the proposal was for making the National Health Protection Scheme as universal. "There are many countries who aspire to make such a health care scheme universal. This year we may become the world's 5th largest economy. Since there are crowds in government hospitals, this health care system was planned. On an experimental basis, we said that we will start with 40 per cent population, covering 10 crore families. There is a list based on economic conditions. This includes tribals, dalits, minorities. We are now analyzing the cost of premium. Some say, it could be Rs 6-7,000 crore, some say it could be Rs 10,000 cr. I do not want to react to a failed representative of a failed government (Chidambaram's kite remark), but from a budget of Rs 24-25 lakh crore, I have kept a nominal amount of Rs 2,000 cr this year, and as and when funds are needed, we will give". 
On the 10 pc tax on Long Term Capital Gains, the Finance Minister said: "I have levied this tax, and a big debate is going on in stock markets. Let me explain. Those who make profits within one year on transactions in stock markets pay 15 per cent tax. But those who keep their stocks for more than a year and then sell, were exempt from tax. Who are those doing this? Not small investors. I have said, those earning upto Rs 1 lakh, will not pay tax. But there are foreign financial institutions (FFIs), large corporates. Last year, they get exemptions up to Rs 3,67,000 crore. Every government in the past used to be wary, and the most affluent of the society were getting full tax exemption. There will be upheavals for two to four days in the stock markets, but nobody had the courage. It's our fortune that the Prime Minister loves to take difficult decisions. He told us, what is the logic behind it. Today when the stock market has gone up beyond 36,000, and if you don't levy tax, when will you levy? "
When Rajat Sharma pointed out that the stock market sensex has nosedived by more than 800 points, Jaitley replied: "Theek Hai. I think, if that is one cost, let it be. But the collections from the tax will fund the two big schemes ( like MSP hike and health care). In all these years, we had left it as it was. If we get 10 per cent tax from Rs 3,67,000 cr (capital gains), it is more than sufficient for providing universal healthcare. Those who are criticizing it today, their hands used to shake when taking such a decision."
From where did you and the Prime Minister got this courage? To this question from Rajat Sharma, Jaitley replied: "I will say our Prime Minister has the knack of taking difficult decisions, that involved risks. He has this ability. Today, people will say, the stock markets will go down by 1000-2000 points. But markets do go up and down. The markets can zoom back after 15 days. But should we stop taxing the affluent and say. we do not have resources?"
Asked from where would the government get doctors and hospitals to implement the healthcare scheme, Jaitley replied: "In the last 15-20 years, most of the hospitals have been built in Tier-1 and Tier-2 cities. Today there is need for 400-500 bed hospitals in small towns of the districts. Once the funding mechanism is decided, it will be both 'sewa' (service) and 'vyavsay' (business). "
Aap Ki Adalat with Finance Minister Arun Jaitley will be telecast tonight at 10 on India TV. The show will be repeated on Sunday Feb 4 at 10 am and 10 pm. 
Watch Video: