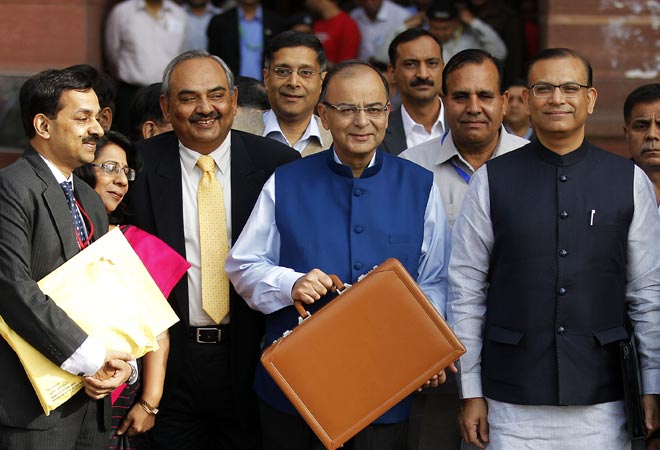 Finance Minister Arun Jaitley is set to present the Union Budget 2018-19 on February 1. While the economic experts are expecting a popular budget this year, last year's budget was focussed on curbing corruption and black money from India through tax reforms. 
The 2017 Union Budget was broadly focused on 10 themes — the farming sector, the rural population, the youth, the poor and underprivileged health care, infrastructure, the financial sector for stronger institutions, speedy accountability, public services, prudent fiscal management and tax administration for the honest.
Following are the top highlights of Union Budget 2017-18, presented by Finance Minister Arun Jaitley in Parliament on February 1, 2017: 
#Tax rates halved to 5 per cent for income of Rs 2.5-5 lakh, tax Slabs unchanged
#10 per cent surcharge on people earning between Rs 50 lakh-1 crore 
#15 per cent surcharge on annual income above Rs 1 crore to continue 
#Cash transactions above Rs 3 lakh to banned 
#Corporate tax for SMEs with turnover up to Rs 50 crore cut to 25 per cent; 96 per cent companies to benefit
#Customs duty of LNG halved to 2.5 per cent
#Fiscal deficit pegged at 3.2 per cent next year, 3 per cent in FY19
#Political parties barred from accepting cash donation beyond Rs 2,000 per individual
#They can receive donations via cheques, electronic mode; Electoral bonds to be issued by RBI
#Aadhaar-based health cards for senior citizens; a scheme for them to ensure 8 per cent guaranteed returns
#FIPB to be abolished; further FDI policy liberalisation
#Government to have time-bound procedure for CPSE listing
#Railway PSUs - IRCTC, IRFC, IRCON to be listed
#Payment Regulatory Board to be set up within RBI to Regulate digital payments
#Negotiable instruments Act to be amended to deal with Cheque bounce cases
#Legislative changes to confiscate of assets of economic Offenders who flee country
#Service charges on e-tickets booked via IRCTC waived
#Capital expenditure of Railway fixed at Rs 1.31 lakh crore
#Rail safety fund of Rs 1 lakh crore over 5 years, unmanned level crossing to be eliminated by 2020
#Railway line of 3,500 km will be commissioned in 2017-18 as against 2,800 km in 2016-17
#Budget based on three agenda - Transform, Energise, Clean India (TECIndia).
#FPI to be exempt from indirect transfer provisions
#Head post offices to issue passports
#Payment regulatory board to be set up in RBI to regulate electronic payments, replacing Board for Regulation and Supervision in Payments and Settlements System.
#3 year period for long-term capital gains tax on immovable property reduced to 2 years; base year indexation shifted from 1.4.1981 to 1.4.2001
#Govt to introduce two new schemes to promote BHIM App -referral bonus for users and cash back for traders.
#Rs 2,74,114 crore allocated for defence expenditure, excluding pension; This includes Rs 86,000 crore for defence capital.
#Dispute resolution in infrastructure projects in PPP mode will be institutionalised
#Computer emergency response team to be set for cyber security of financial sector
#Allocation of Rs 10,000 crore for Bharat Net project for providing high-speed broadband in FY18
#Coverage of Fasal Bima Yojana to go up from 30 per cent of cropped area to 40 per cent in 2017-18 and 50 per cent next year
#Digi Gaon to be launched to promote tele-medicine and education
#Dedicated micro-irrigation fund to be set up by NABARD to achieve mission of Per Drop, More Crop.
#Target of agriculture credit fixed at Rs 10 lakh crore in 2017-18
#Rs 9,000 cr higher allocation for payment of sugarcane arrears
#Second phase of solar power development to be taken up with an aim of generating 20,000 MW
#Select airports in tier-II cities to be taken up for operations, development on PPP mode
#Delhi and Jaipur to have solid waste management plants and five more to be set up later
#35 per cent increase in allocation for SC to Rs 52,393 crore
#PM Kaushal Kendras will be extended to 600 districts; 100 international skill centres to be opened to help people get jobs abroad.
#Rs 500 cr allocated to set up Mahila Shakti Kendras; Allocation raised from Rs 1.56 lakh cr to Rs 1.84 lakh cr for women & child welfare.
#National Housing Bank will refinance individual loans worth Rs 20,000 crore in 2017-18.
#To construct one crore houses by 2019 for homeless. PM Awas Yojana allocation raised from Rs 15,000 crore to Rs 23,000 crore.
#1.5 lakh health sub centres to be converted to Health Wellness Centres.
#New rules regarding medical devices will be devised to reduce their cost
#Two new AIIMS to be set up Jharkhand and Gujarat
#100 per cent electrification of villages to be completed by May 2018
#Allocation under MNREGA increased to 48,000 crore from Rs 38,500 crore.