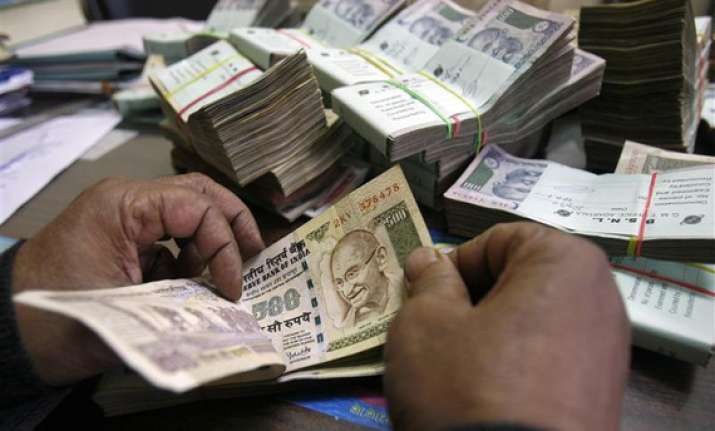 Mumbai, Jan 23: The rupee jumped 21 paise to a two-and-a-half month high of Rs 50.10/11 against the US dollar on the back of sustained capital inflows and weakness in the American currency overseas.

At the Interbank Foreign Exchange (Forex) market, the rupee opened stronger at 50.30/31 a dollar and immediately hit a low of 50.40 on investor caution in stock markets and month-end dollar demand from importers, mainly oil refiners.

However, capital inflows and sluggish dollar in the global markets helped the rupee to bounce back to close at 50.10/11, a net rise of 0.42 per cent.

It had ended at 49.47/48 on November 8, 2011. The following day, the local currency crashed by a whopping 70 paise to settle at 30-month low of 50.17/18 against the US dollar.

FIIs continued with the buying spree and have injected almost USD 1.35 billion in equities in the last fifteen sessions.

Traders said positive closing of local equities also improved the rupee sentiment.

The benchmark Sensex ended on a flat note, up nearly 13 points to 16,751.73, ahead of RBI monetary policy review tomorrow and expiry of January series on coming Wednesday.

Late dollar selling by exporters on hopes of further fall in dollar value overseas too boosted the rupee value.

Banks and exporters preferred to reduce their dollar position in view of sustained capital inflows from foreign funds into equity market, a forex dealer said.

The dollar index of six major rivals was down by nearly 0.35 per cent ahead of euro-zone finance ministers meeting later in the day.

New York crude oil was trading above USD 99 a barrel in European market today.

The rupee premium for the forward dollar finished mixed on alternate bouts of buying and selling.

The benchmark six-month forward dollar premium payable in June settled remarkably higher at 179-181 paise from 164-166 paise, while far-forward contracts maturing in December closed weak at 266-268 paise from 277-279 paise.

The RBI has fixed the reference rate for the US dollar at 50.2435 and for the euro at 64.7876.

The rupee remained sluggish against the pound sterling to end at Rs 78.00/02 from last weekend's close of Rs 77.79/81 and also moved down further to Rs 65.14/16 per euro from Rs 64.98/65.00 previously.

It, however, remained firm against the Japanese yen to Rs 65.17/19 per 100 yen from last close of Rs 65.21/23.