English News
India
Pulwama Terror Attack | Nation mourns loss of bravehearts; India intensifies diplomatic actions
Pulwama Terror Attack | Nation mourns loss of bravehearts; India intensifies diplomatic actions
Reacting to the terror attack, PM Modi said that the sacrifices of the security personnel shall not go in vain. Meanwhile, Congress president Rahul Gandhi has pledged support to the government.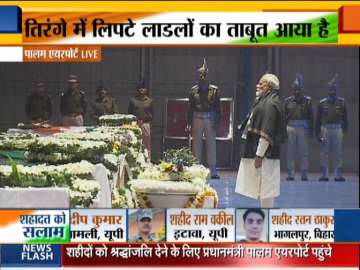 At least 41 CRPF personnel were martyred and several others were critically injured in Pulwama terror attack. The attack was carried out by a suicide bomber who rammed his SUV packed with explosives into a CRPF bus on the Srinagar-Jammu highway in Pulwama district on Thursday. Jaish-e-Mohammad (JeM), the Pakistan-based terror outfit, has taken the responsibility for the worst-ever terror attack in Jammu and Kashmir since militancy erupted in 1989. The JeM has released a video clip of the suicide bomber, a 'commander' identified as Adil Ahmad Dar. The video, according to the JeM, was shot before Adil Ahmad Dar carried out the strike.
Reacting to the terror attack, PM Modi said that the sacrifices of the security personnel shall not go in vain. The prime minister chaired the meeting of the Cabinet Committee on Security (CCS) that was attended by Home Minister Rajnath Singh, NSA Ajit Doval, Arun Jaitley and Army Chief General Bipin Rawat. 
HIGHLIGHTS:
8:35 pm: PM Modi pays tribute to martyred jawans in Pulwama attack
8:29 pm: Home Minister Rajnath Singh, Defence Minister Nirmala Sitharaman and Delhi CM Arvind Kejriwal lay wreaths on the mortal remains of the CRPF jawans.
8:20 pm: Rahul Gandhi pays tribute to martyred jawans
7:55 pm: Tributes being paid to martyred jawans at Palam airport 
7:11 pm: Congress President Rahul Gandhi is going to Palam Airport where the mortal remains of CRPF jawans, who lost their lives in yesterday's Pulwama Attack, are brought. 
7:00 pm: Mortal remains of martyred jawans have reached Delhi, PM Modi to pay tributes
6:30 pm: Representatives from South Korea, Sweden, Slovakia, France, Spain and Bhutan were also present in the meeting.
6:00 pm: Representatives of different diplomatic missions arrive at the Ministry of External Affairs in Delhi
5:50 pm: All party meeting to be held tomorrow at 11 am in Parliament library
5:32 pm: It has been decided that civilian movement will be halted for sometime when a large convoy of security forces passes through an area, says Home Minister Rajnath Singh
5:30 pm: Want to appeal people of country to be wary of those trying to disturb communal harmony in this situation, says Home Minister Rajnath Singh
4:40 pm: Shiv Sena demands for a joint session of Parliament to hold discussions over yesterday's Pulwama Attack
4:32 pm: Congress Core group meeting is underway at the residence of UPA Chairperson Sonia Gandhi, over yesterday's Pulwama Attack.
04:00 pm: Home Minister Rajnath Singh, Jammu and Kashmir Governor Satya Pal Malik hold meeting with officials in Srinagar
03:50 pm: Indian High Commissioner to Pakistan Ajay Bisaria called to Delhi for consultations on diplomatic action against Pakistan
03:24 pm: Home Minister Rajnath Singh and J&K DGP Dilbagh Singh lend a shoulder to mortal remains of a CRPF soldier in Budgam
03:09 pm: Slogans of 'Veer Jawan Amar Rahe' raised at CRPF camp in Budgam after wreath laying ceremony of soldiers who lost their lives in Pulwama Attack
03:07 pm: Union Home Minister Rajnath Singh, Jammu and Kashmir Governor Satya Pal Malik and Army's Northern Command chief Lt Gen Ranbir Singh in Budgam, pay tribute to CRPF personnel who lost their lives in Pulwama Attack. 
02:45 pm: NIA team reaches Pulwama terror attack spot for further investigation
02:40 pm: India summoned Pakistan's top envoy and lodged strong protest over the killing of nearly 40 CRPF soldiers in the Pulwama terror attack carried out by Pakistan-based terror group Jaish-e-Mohammad (JeM). Foreign Secretary Vijay Gokhale summoned Pakistan High Commissioner to India Sohail Mahmood and lodged strong protest over the killing of the CRPF soldiers in Pulwama
02:32 pm: Sacrifices of martyrs will not go in vain: PM Modi in Jhansi
02:30 pm: We have isolated Pakistan: PM Modi says in Jhansi
02:20 pm: Pakistan treading on path of destruction: PM Modi in Jhansi
02:14 pm: We'll decide time, plan and place of revenge: PM Modi at Jhansi
02:10 pm: Murderers of Pulwama will not be spared, says PM Modi
01:50 pm: Curfew imposed in Jammu city after protests, Army requested to help maintain law and order
01:37 pm: 220 terrorists present in Kashmir valley and along LoC with Pakistan
01:30 pm: Around 40 terrorists present in Pok-based terror launch pads
01:25 pm: Security agencies identify PoK-based launch pads for attack: Sources 
01:15 pm: China again declines to back India's appeal to list JeM chief Masood Azhar as global terrorist by the UN following the Pulwama attack
01:10 pm: It is condemnable, it's a cowardly act. It needs a permanent solution through dialogue, how long will the Jawans sacrifice their lives? How long will the bloodshed continue? People who do this must be punished. Hurling abuses won't help: Navjot Singh Sidhu
01:08 pm: Talks should be held with Pakistan. Dialouge, and not bullets, can resolve issues : Navjot Sidhu after Pulwama terror attack
12:45 pm: 170 terrorists present in Kashmir valley. 35-40 of them are Pakistanis.
12:40 pm: NSA Ajit Doval calls meeting of officers of RAW, IB
12:35 pm: Govt braces for big operation in Kashmir valley
12:03 pm: Today is the day of mourning. Our country has lost close to 40 armed forces jawans and our foremost duty is to convey to their families that we are with them. We shall never compromise with the terrorist forces: Former PM Manmohan Singh
11:56 am: We are fully supporting the govt of India and our security forces: Rahul Gandhi
11: 55 am: We are with the govt, we are with the country: Rahul gandhi
11:54 am: The entire country is united: Rahul Gandhi
11:53 am: Terrorism is aimed at diving the country. No force on earth can divide this country: Rahul Gandhi
11: 52 am: Attack on security forces disgusting: Rahul Gandhi
11:35 am: Security of New Delhi-based Pakistani High Commission tightened. 
11:30 am: Our party strongly condemns this terrorist attack and offers deepest condolences to the families of the soldiers who lost their lives. We appeal to the central government to find a lasting solution to this problem: Mayawati
11:23 am: We condemn the Pulwama terror attack: BSP chief Mayawati
11:05 am: I am thankful to all nations which condemned Pulwama attack and urge them to come together to crush terrorism: PM
11:04 am: Understand sentiments of those criticising us, want to urge them, it is emotional time, stay away from political one-upmanship: PM
11:03 am: The nefarious design of our neighbour will not succeed. Our neighbouring country thinks such terror attacks can weaken us, but their plans will not materialise:  PM Modi
11:02 am: Pakistan's dreams of destabilising India will never come true, says PM Modi
11:01 am: Terrorists have committed grave mistake, their masters will have to pay heavy price: PM Modi
11: 00 am: Security forces given free hand to give a befitting reply: PM Modi
10:59 am: The blood of the countrymen boiling after these attacks: PM Modi
10:58 am: There is immense outrage in the country over Pulwama terror attack: PM Modi 
10: 57 am: My condolences to families of those martyred in Pulwama attack, those behind the terror strike will be punished: PM Modi
10:50 am: 'Most favoured nation' status granted to Pakistan stands withdrawn: Arun Jaitley after CCS meet
10:47 am: MEA to take steps to ensure complete isolation of Pakistan: Jaitley
10:46 am: CCS observed 2-minute silence in respect of the martyrs: Arun Jaitley after CCS meet
10:41 am: J&K Assembly elections may be delayed: Sources
10:39 am: Kartarpur corridor may be scrapped: Sources
10:37 am: J&K Governor may be changed: Sources
10:35 am: Arun Jaitley to brief media shortly
10:30 am: CCS meet over. The meeting lasted for over an hour.
10:15 am: Indian Air Force's C-17 transporter aircraft leaves from Delhi to Srinagar to bring the bodies of the martyrs. 
09:25 am: PM Modi, Home Minister Rajnath Singh, Arun Jaitley,  NSA Ajit Doval and Army Chief General Bipin Rawat present in the CCS meeting
09:20 am: CCS meeting begins
09:15 am: US asks Pakistan to immediately end 'support' and 'safe haven' to all terror groups operating on its soil after Pulwama terrorist attack
08:45 am: Shutdown in Jammu in protest against Pulwama terror attack, all schools closed [ Read Full Story here ]
07:15 am: Mobile internet services have been suspended in Jammu 
07:00 am: US denounces Pulwama attack, calls on countries to deny safe haven to terrorists
06:55 am: Pakistan rejects link with attack, says Pulwama terror strike 'matter of grave concern'
06:50 am: Such acts of terrorism futile for peace, says MQM leader Altaf Hussain 
06:40 am: Rajnath Singh to visit Srinagar later in the day
06: 30 am: After CCS meeting, IB chief to brief Home Minister Rajnath Singh
06:15 am: PM Modi to chair CCS meeting at around 9:15 am
While precise details of the attack were still unclear, police sources said the suicide bomber-driven SUV came along the Central Reserve Police Force (CRPF) bus when a 78-vehicle convoy carrying 2,547 security personnel was going from the transit camp in Jammu to Srinagar and rammed it into the bus around 3.15 p.m., triggering a deafening explosion.
So devastating was the attack -- one report spoke of 200 kg of explosives, including probably RDX, packed into the SUV -- that the CRPF bus was left a mangled heap, many of its occupants losing their limbs. 
CRPF officials said the bus which was the main target of the militants was destroyed fully while another CRPF vehicle was partly damaged. "It is difficult to believe how anyone in that bus could have survived," said a police officer.
In a statement to a local news agency GNS, a caller claiming to be a spokesman of JeM said it was a 'fidayeen' (suicide) attack.
All the injured were shifted to the Army's 92 Base Hospital in the Badamibagh cantonment of Srinagar city. Some of them were in critical condition.
All traffic on the Srinagar-Jammu Highway came to an abrupt halt. Senior police and CRPF officers rushed to the spot for a post-explosion analysis.
An officer said the CRPF and police would carry out a detailed investigation to understand the circumstances in which the attack took place.
Prime Minister Narendra Modi led the nation in condemning the horror.
"The attack ... is despicable. I strongly condemn this dastardly attack. The sacrifices of our brave security personnel shall not go in vain. The entire nation stands shoulder to shoulder with the families of the brave martyrs," he tweeted.
Home Minister Rajnath Singh, who was to visit Bihar on Friday, is set to reach Srinagar instead. Home Secretary Rajiv Gauba cut short his visit to Bhutan to rush to Srinagar for a high-level security meeting on Friday.
"Today's dastardly attack ... is extremely painful and disturbing. I bow to each and every CRPF jawan who has sacrificed his life in service to the nation," Rajnath Singh said.
The government, stressing that the "heinous and despicable act has been perpetrated by Jaish-e-Mohammed, a Pakistan-based and supported terrorist organisation proscribed by the United Nations and other countries", demanded that Pakistan "stop supporting terrorists and terror groups operating from their territory and dismantle the infrastructure operated by terrorist outfits to launch attacks in other countries".
New Delhi also reiterated its appeal to the international community to support the proposal to list terrorists, including JeM Chief Masood Azhar, as a designated terrorist under the 1267 Sanctions Committee of the UN Security Council. 
This is the worst single attack in Jammu and Kashmir since a nascent Pakistan-backed separatist campaign began in 1989. It is also the worst attack carried out by militants after the one on the Uri Army camp on September 18, 2016 left 19 soldiers dead -- forcing New Delhi to launch 'surgical strikes' on terrorist camps in Pakistan.
Officials said the reason why so many CRPF personnel were on the move at one go was because the Srinagar-Jammu highway had been shut the past two days due to bad weather. The convoy left Jammu before dawn.
VIDEO: PM Modi pays tribute to martyred CRPF men