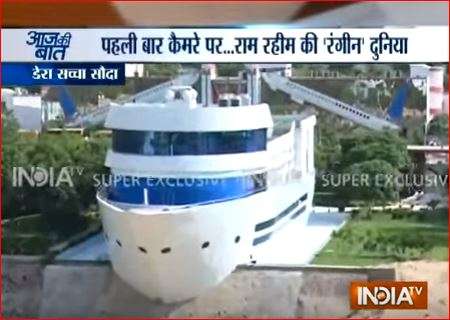 Surprises never cease when one enters Ram Rahim's sprawling 'dera' (ashram) in Sirsa, Haryana. India TV reporter Abhishek Upadhyay was the first to sneak into the dera on Tuesday and Wednesday, even before police and the High Court-appointed team was to enter. 
After careful study of the visuals of the dera, one arrives at a conclusion that there were two main faces of Ram Rahim's dera. One: when Ram Rahim's predecessors opened school, college, hospital, eye bank and meditation centre to provide succour to their followers, and Two: the swanky 'wonderland' where cheap replicas of Eiffel Tower, Taj Mahal, St. Peter's Basilica and Disneyland were erected, alongwith a huge cricket stadium, a shopping mall and a cinema theatre, among other such luxuries. 
Ram Rahim spent billions and amassed all the luxuries of life to dazzle the world, particularly his followers.  He also built a mysterious cave, a place where he indulged in carnal pleasures, that included rapes and sexual assaults. In short, Ram Rahim converted an ashram doing social work into a a vast, sprawling space to mint millions of rupees. 
Simple, gullible followers went to the dera in search of spiritual enlightment and education for their offsprings, took patients there for treatment, but were befooled in return by their guru. 
With the masses at his beck and call, Ram Rahim considered himself God, or Messenger of God, and the anti-climax came when the guardians of law caught up with him. He will now have to spend twenty years behind bars. 
Watch the full episode here:
Aaj Ki Baat: Monday to Friday, 9 PM
India's Number One & the most followed Super Prime Time News Show 'Aaj Ki Baat – Rajat Sharma Ke Saath' was launched just before the 2014 General Elections. Since its inception the show is redefining India's super prime time and is numerically far ahead of its contemporaries.