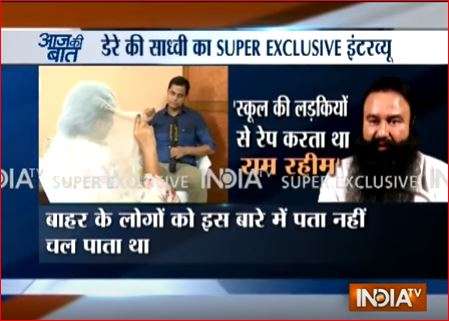 The chilling account of sex pervert Gurmeet Ram Rahim narrated on India TV on Wednesday night by a former sadhvi brings out the weaknesses inherent in our society. The sadhvi alleged that the baba used to rape a woman every six hours and he must have raped nearly 2,000 women till date. One thing is clear: Gurmeet Ram Rahim was a criminal disguised as a fake godman. 
His followers knew about his shenanigans and dark secrets, but Gurmeet Singh had created an atmosphere of terror among his followers and nobody dared to speak out. Anybody who did so was liquidated. One question arises: when followers knew that the baba was a serial rapist, a criminal and a murderer, why did more than a lakh people gather in Panchkula in a show of solidarity? 
Why did these followers tell the media that they had come to have a 'darshan' (glimpse) of the baba, whom they called 'pita' (father)? What can one say about such blind devotion? The moot question is:  what can we, as a society, can do to save people from blind devotion? How can we create awareness in our society against such fake godmen?
Watch the full episode here:
Aaj Ki Baat: Monday to Friday, 9 PM
India's Number One & the most followed Super Prime Time News Show 'Aaj Ki Baat – Rajat Sharma Ke Saath' was launched just before the 2014 General Elections. Since its inception the show is redefining India's super prime time and is numerically far ahead of its contemporaries.