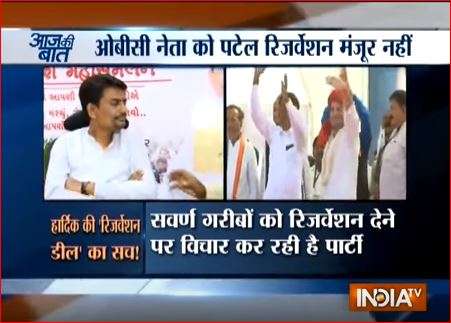 In an interview to India TV reporter on Friday, Gujarat OBC leader Alpesh Thakore has ruled out reservation for Patidars from OBC quota. The Patidar agitation leader Hardik Patel is presently busy extracting promise of reservation from Congress, the party which Alpesh Thakore had joined last week. 
If one looks carefully at the statements of both Alpesh Thakore and Hardik Patel, it is clear that the Congress is stepping into a mire. Saying that the party would give reservation to Patidars is not sufficient. 
The party has to make it clear how it will implement it. On Friday, Bombay High Court stayed the Maharashtra government's decision to provide reservation to Marathas. The same was the case with reservation for Jats in Rajasthan. Haryana assembly had to pass a bill to give reservation to Jats. 
The same occurred in Andhra Pradesh and Tamil Nadu, but none of the decisions stood the test in courts. It should be made amply clear that any reservation for Patidars in Gujarat can be implemented only through a Constitutional amendment. The Congress is not in power at the Centre. 
Hence its promise will automatically vanish into thin air. With election schedule announced in Gujarat, the Congress must clearly state in what manner it would implement reservation for Patidars. To me, it seems the Congress is tying itself up in knots while allying with Alpesh, Jignesh and Hardik.
Watch the full episode here:
Aaj Ki Baat: Monday to Friday, 9 PM
India's Number One and the most followed Super Prime Time News Show 'Aaj Ki Baat – Rajat Sharma Ke Saath' was launched just before the 2014 General Elections. Since its inception the show is redefining India's super prime time and is numerically far ahead of its contemporaries.