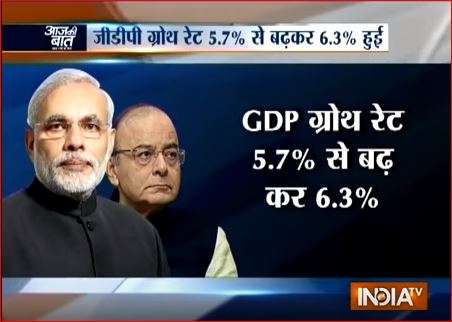 On Thursday, the Central Statistics Office reported that GDP growth rate during the second quarter from July to September this year has recorded  6.3 per cent compared to 5.7 pc in the previous quarter. The notable fact is that this growth was recorded under the new GST regime which was ushered in from July 1. GDP growth in manufacturing sector has been commendable, and Finance Minister Arun Jaitley has predicted that the upward trend will now continue. 
One may remember when the GDP recorded a slump in the last five quarters, former finance ministers Yashwant Sinha and P. Chidambaram, and former PM Dr Manmohan Singh had stridently criticized Centre's economic policies, and they made it appear as if Jaitley's handling of GST has badly damaged the economy. Some of these leaders predicted that darkness was now looming on the horizon. 
At that time, Prime Minister Narendra Modi and Arun Jaitley had assured the nation that this was a temporary phase and there was no need for a knee-jerk reaction. Both Modi and Jaitley have now been proved right. Whenever big reforms are carried out in an economy, such temporary shocks do occur. GDP statistics now make it clear that the economy is presently on the right path. This should give a sense of relief to the nation at large and the Finance Minister should be complimented for this.
Watch the full episode here: 
Aaj Ki Baat: Monday to Friday, 9 PM
India's Number One and the most followed Super Prime Time News Show 'Aaj Ki Baat – Rajat Sharma Ke Saath' was launched just before the 2014 General Elections. Since its inception the show is redefining India's super prime time and is numerically far ahead of its contemporaries.