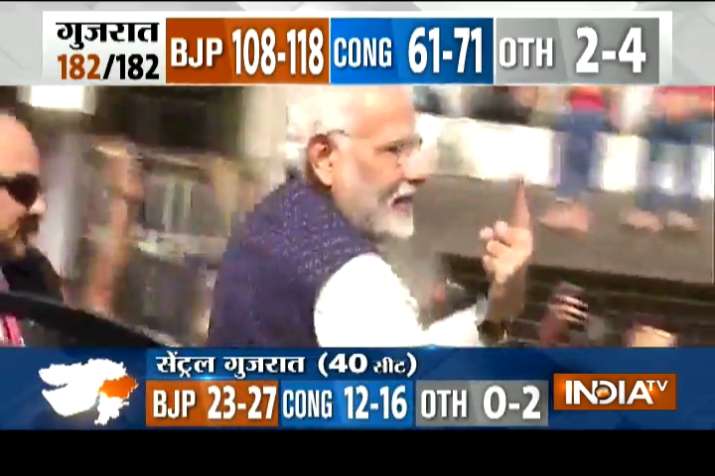 The results of Gujarat and Himachal Pradesh assembly polls will be out on December 18. As of now, all exit polls conducted by media houses predict BJP will retain Gujarat and storm back to power in HP.
If the exit poll projections are proved true, all the credit will go to Prime Minister Narendra Modi. Congress had been saying that the people of Gujarat are unhappy with BJP, but if the exit poll projections are proved true, it will reaffirm people's trust in Modi's leadership.
It is true that Rahul Gandhi toiled very hard this time in Gujarat. He tried to reset caste calculations, allied with young emerging leaders like Hardik Patel, Jignesh Mevani and Alpesh Thakore, made changes in ticket distribution on their advice, went to at least 28 temples, and did not speak about Muslims.
Initially, it appeared that Rahul's toil was bearing fruit, and Patidars' anger could harm BJP, but in the final lap of campaigning, it was Modi who changed the atmosphere.
He made the entire poll campaign Modi-centric, and issued emotional appeals to the people of Gujarat. The exit poll projections show this seems to have worked. Let keep our fingers crossed for the day of counting.
Watch the full episode here: 
Aaj Ki Baat: Monday to Friday, 9 PM
India's Number One and the most followed Super Prime Time News Show 'Aaj Ki Baat – Rajat Sharma Ke Saath' was launched just before the 2014 General Elections. Since its inception the show is redefining India's super prime time and is numerically far ahead of its contemporaries.